Tool Test: 9 Midsize Tablesaws
How contractor-style saws and hybrids measure up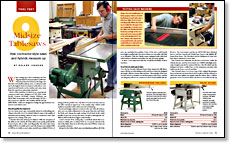 Synopsis: A pro tackles the job of evaluating and recommending a common first big purchase: midsize tablesaws. Roland Johnson took a scientific eye to nine machines, both conventional contractor-style saws and hybrids. He tested them for overall quality, fences, factory settings, and runout, and then he performed real-world checks by ripping and crosscutting 8/4 white oak and hard maple to see how they did under load. Johnson lists features to consider when buying a saw, such as switches and dust collectors, and most important, motor speed.
From Fine Woodworking #167
When setting up a new workshop, the first big purchase for most people is a tablesaw. Priced and sized in between the large cabinet saws and small benchtop saws, a contractor-style saw is the logical choice for many woodworkers. I surveyed several brands on the market and came away from the experience pleasantly surprised.
Seven of the machines I looked at are conventional contractor-style saws: Bridgewood TSC-10CL, Delta 36-426, General 50-185M1, Grizzly 1022ProZ, Jet JWTS-10JF, Powermatic 64A, and Woodtek TSC-B. I also tested two hybrids—the DeWalt DW746 and Jet JWSS-10LFR—which are designed to bridge the gap between contractor's and cabinet saws.
Not too many years ago, reasonably priced woodworking machinery often left a lot to be desired when it came to the quality of materials and machining. When it comes to contractor's saws, that appears to be a thing of the past.
I checked all of the tabletops for flatness. With the exception of the table on the Grizzly, all of the tables were nearly perfectly flat front to back, side to side, and diagonally. The miter slots were within 0.001 in. in width end to end; all of them were within 0.002 to 0.003 in. in width to each other; and all were within 0.004 in. of being perfectly parallel. The only flaws I found were that some of the table extensions tipped up at the outside edge, which could easily be remedied with a shim and a bit of tinkering.
Bevel and height adjusters worked well, and with all of these saws you can make adjustments in the gears that raise and lower the blade and change the angle setting. A lock knob in the crank handle of each saw secures the arbor's location, although the DeWalt would benefit from bigger crank handles.
I used a Forrest 10-in. testing disc—a sawblade blank that is accurate to within plus or minus 0.001 in.—to test for runout at the rim of the blade. Runout on all of the saws was 0.004 in. or less: an acceptable tolerance.
For the full article, download the PDF below.
View PDF