Alto Wap - Shop Vacuum ATTIX AS/E
Alto Waps's wet/dry tank vacuum features auto start with an auxiliary power tool and a 2-1/2-in.-dia. dust collection hose.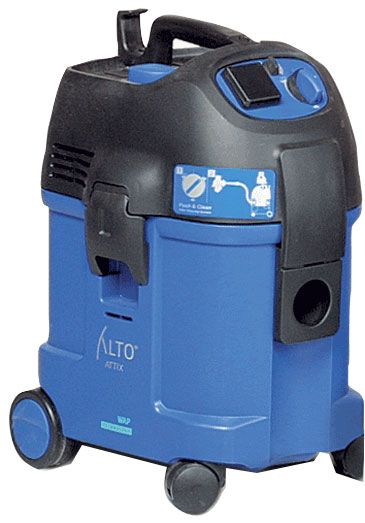 Alto Wap's newest shop vacuum is a compact machine with a 1,000w (about 8.5 amps) motor that offers a reasonable amount of power. The machine also is lightweight and easy to move, making it ideal for small cleanup chores and light dust collection.
A built-in electrical outlet has an automatic starting feature, called auto start, that's handy if you connect the vacuum hose to a power-sanding tool, such as a belt sander.
Variable-suction control lets you adjust the suction for peak efficiency. Also, with the push of a button, the vacuum sends a blast of air backward through the pleated filter to dislodge built-up dust and debris.
This product is compact, quiet, and easy to move.