Clamp Storage Solutions
Three woodworkers offer clever ways to keep clamps organized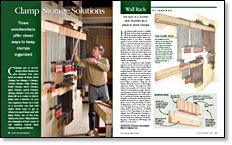 Synopsis: You can't have too many clamps. Here are examples of how some of our readers solved their clamp-storage problems using wall and ceiling racks for bar clamps and wall racks for pipe clamps. Explained are solutions for mounting clamp racks with screws or French cleats. There is also instruction on building a clamp cart, if you have adequate floor space.
From Fine Woodworking #164
Having recently moved to a smaller shop, I had to find somewhere to store my fairly large collection of bar clamps and hand clamps. When considering where to put them, I decided against a fancy rack that rolls around the shop on casters because the floor space it would require is too dear. I wanted my clamps near the area where large glue-up projects will be done, but I also wanted to keep them out of the way when they're not needed. The solution was…
Start your 14-day FREE trial to continue reading this story.