Ridgid - Shop Vacuum WD16650
This 16-gallon wet/dry shop vacuum from Ridgid features a detachable blower and is now listed as model No. 1665.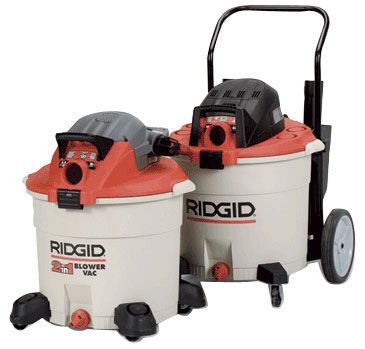 No shop vacuum has the power or longevity to replace a dedicated dust-collection system, but a number of them will work well enough as portable dust collectors for benchtop machines in small shops or as backups to larger systems. The 13 vacuums I looked at were quieter than those of a few years ago, and all had adequate power as long as I kept the filter from clogging. I found that the better performers had filters situated horizontally above the tank. Hose diameter also is critical to the function of a vacuum, particularly when the machine is used as a dust collector.  A 2-1/2-in.-dia. hose is good for planers and routers, but a small hose diameter is best for small portable tools like sanders and saws.
Removable blower capability makes this Ridgid shop vacuum an especially good value.
THIS ITEM WAS LISTED AS RECALLED 1/13/2005: The air intake shield may be missing. Consumers can suffer lacerations if they come into contact with the intake blower wheel.
Remedy: If the air intake shield is missing, consumers should stop using their vacuum and contact the firm for a free repair kit.
Consumer Contact: Consumers should call Emerson Tool Co. at 800-372-7759 between 8 a.m. and 6 p.m. CT Monday through Friday, or visit their Web site at www.emersontoolcompany.com.