Hinges and Lid Supports for Chests
Traditional, decorative, or practical, there's hardware to match any style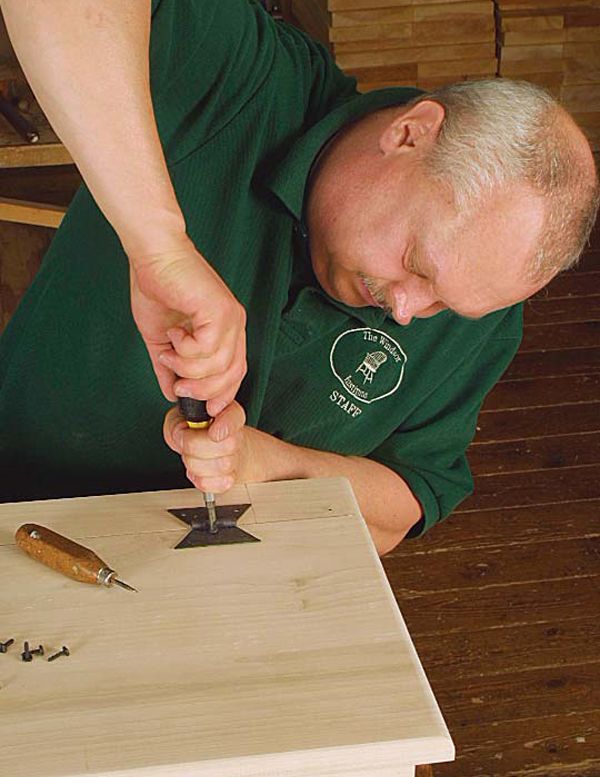 Synopsis: Installing hinges and lid supports on a chest involves more than just a few hours of tooling in the shop. Depending on the style of your project — whether it's Arts and Crafts or Colonial — you must first choose the right style of hardware. In this article, Mike Dunbar reviews the various options and sources for hardware, and details methods for installing each hinge. Also find tips for installing lid supports to prevent the lid on your blanket chest or toy box stays from falling backward.
Almost every furniture style—from Shaker to Arts and Crafts—has adopted and adapted the basic chest, in the process creating a range of styles and uses. But no matter which design you choose, a chest needs hardware. I am always surprised when someone invests a great deal of effort in making a piece of furniture and then buys whatever hinges the local hardware store carries.
If you source from the quality suppliers that I'll mention, the choice of hardware is enormous: You can choose hinges that not only match the quality but also the style of your workpiece. I'll show you how to install the brilliantly simple snipe hinges in that six-board chest you're making; I'll show you where to find and how to install hand-crafted strap hinges worthy of the finest blanket chest; and if it's a toy box for a child that you're making, I'll cover hinges that will resist the most destructive toddler as well as lid supports to prevent crushed little fingers.
The typical strap hinge has a long, narrow leg that extends more than halfway across the underside of the lid of a chest and a shorter but wider leg that attaches to the inside of the back board. The strap hinge is a strong choice for a chest because the long leg is secured at several locations, and the other leg is attached to the wide surface of the back board, not to its thin upper edge.
Strap hinges for chests are different from those used on doors in that the short leg is offset by a right-angle bend. This offset enables the leg to lie flat against the inside surface of the back board. The thickness of both the long leaf and the offset prevent the lid from sitting flush against the top of the chest. You can reduce this gap by inletting the offset, which is a simple process, or eliminate the gap by inletting the long strap, too, which is more time-consuming.
From Fine Woodworking #161
For the full article, download the PDF below:
View PDF