Tool Test: 1-hp Mortisers
These machines are bigger, beefier and mightier than benchtop models, but are they worth the extra cost?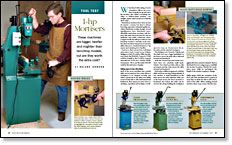 Synopsis: In this tool review, Roland Johnson puts seven beefy, floor-standing mortisers through their paces and evaluates how they performed. Properly set up and used, he says, these machines will cut straight, square-sided mortises in short order. He compares their motor size, chisel capacity, table size, table travel flexibility, vertical spindle travel, net weight and whether they include a bit set; find out which earn his approval and why.
When faced with cutting a bunch of mortises, I like to use a mortiser. Properly set up and used, the mortiser, also called a mortising machine or hollow-chisel mortiser, cuts straight, square-sided mortises in relatively short order.
Stand-alone mortisers have been around for nearly a century, but they've always been big, expensive, industrial-quality machines. Relatively recently, though, several manufacturers have introduced moreaffordable stand-alone mortisers, with features that make them practical for serious hobbyists and small commercial shops. Compared with the drill-press add-ons and benchtop mortisers currently on the market, these mortisers feature lots of cast-iron tables that move, sturdy hold-downs, 1-hp motors and extralong lever handles.
Curious to find out just how well these newcomers work, I tested seven of them: Bridgewood MS-10 (sold by Wilke Machinery), Fisch FM-99-66252, Geetech CT-920 (sold by Sunhill as the CT-1913), General International 75-075 M-1, Grizzly G8620, Powermatic 719-A and Woodtek 924-020 (sold by Woodworker's Supply).
Tables move in two directions
Each of the seven machines has a sturdy table and an attached fence that allows a workpiece to be clamped securely. But what's special about the table is its ability to move both side to side and forward and backward. That means you don't have to unclamp, reposition and reclamp a workpiece for every cut. You just move the entire table and the attached workpiece.
The Bridgewood, Geetech, Grizzly and Woodtek each uses a large handwheel on the front to move the table side to side and forward and backward.
Both the General and Powermatic mortisers have two relatively small handwheels. One wheel provides side-to-side movement, and the other moves the table forward and backward.
Fisch takes a different approach, with the table and fence moving independently of one another. A small handwheel at the front moves the table sideways while one at the back moves the fence forward or backward. But before the table can be moved, the clamp holding the workpiece against the fence must be released. That's a drawback if you're using stops to establish the mortise locations. Should the workpiece move while it's unclamped, the length of the mortise is going to change.
Table stops— With the exception of the Fisch, all of the machines have a system of stops that can limit the side-to-side movement of the table.
From Fine Woodworking #159
For the full article, download the PDF below:
View PDF