Floating-Tenon Joinery
Simple jig works with a plunge router to make quick, strong joints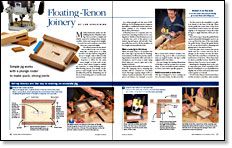 Synopsis: Once you have a simple system for making mortise-and-tenon joints, constructing tables, chairs, and case goods can become a straightforward, fast, and consistent process. In this article, Lon Schleining details a simple jig he uses to cut floating tenon joinery with a router. Build it accurately, and strong and accurate joints will follow.
Mortise-and-tenon joints are the building blocks of furniture making. Once you have a simple and reliable system for making them, joinery on tables, chairs and case goods is straightforward, fast and consistent, even when there are compound angles.
The distance between the shoulders is critical in the case of something like a table apron or a chair stretcher. One day I had cut a big pile of pieces to length, only to discover that I'd made one teensy mistake: I had forgotten to allow for the extra tenon length on both ends of the pieces. That's when I began to rethink my resistance to using floating tenons. With floating tenons, you simply cut the piece to exact length, and it's done. The shoulders fit perfectly, eliminating one of the most frustrating parts of mortise-andtenon joinery.
In a joint-strength test last year (FWW #148, pp. 74-79), floating tenons compared favorably to traditional mortise-and-tenon joints, putting to rest common doubts about their performance.
A floating tenon is a separate piece inserted into matching mortises in two mating pieces. Similar to biscuit joinery, you cut a mortise into each of the pieces to be joined—leg and apron, rail and stile. Then you mill tenon stock to fit the mortises, cut it to length and assemble the joint.
Make a router jig for this joinery
There are many ways to cut mortises, but this router jig is my favorite for floatingtenon joinery. It will create precise, matching mortises in both the sides and ends of workpieces, and it's easy to make using birch plywood, screws, glue and a few hardwood blocks.
The jig shown here will cut a mortise 1 in. from the clamping fence, meaning the mortise will be centered in 2-in.-thick stock. This large capacity adapts well to a variety of projects and joints. If your workpieces are thinner, for example, or you'd like a reveal with a thinner member centered on a leg, post or stile, or even if you want an angled mortise, the jig is easily adapted with a few shims.
You can change the starting dimensions of this jig to suit the mortise you cut most often, or you can build several variations, as I have, each with a specific purpose.
From Fine Woodworking #158
For the full article, download the PDF below:
View PDF