Safe and Simple Arts and Crafts Finish
Pigment stains and dyes reproduce a fumed finish without the ammonia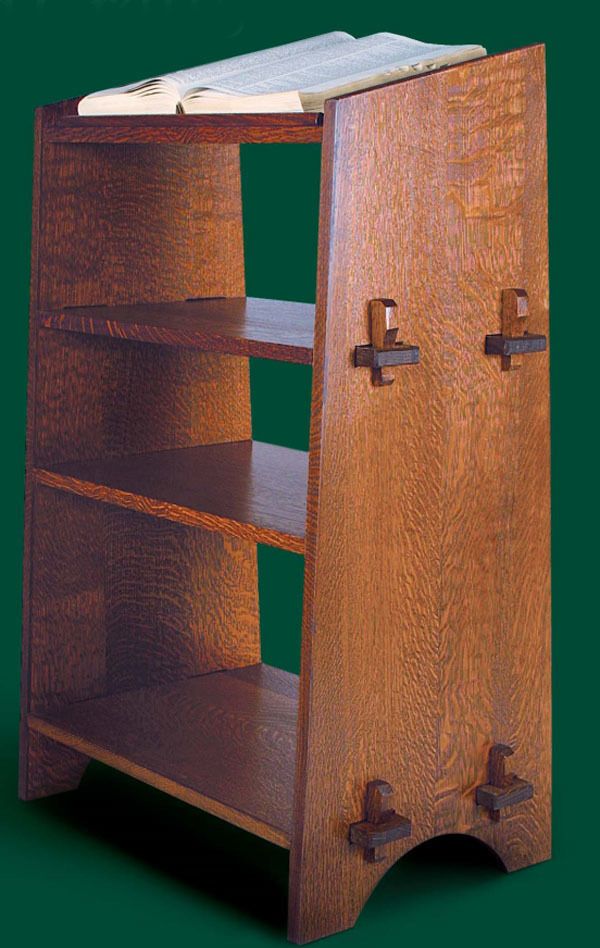 Synopsis: Gustav Stickley worked tirelessly to perfect a finishing process for quartersawn white oak using ammonia fuming. His noted process isn't hard, but it does have serious drawbacks. This article, by Jeff Jewitt, a professional finisher, explains how to achieve the look of a fumed finish under safer conditions, involving dye or pigment stain and lacquer or shellac, and he shows the variety of looks you can achieve depending on which stain you prefer.
The Arts and Crafts furniture that became the rage in this country in the early 20th century was a reaction against the ornate and excessive style of Victorian designs. Several companies, such as Roycroft, Limbert and Stickley, all produced this style of furniture. Gustav Stickley is considered by many as the leader and originator of this style of furniture in America, and he had a particular fondness for quartersawn white oak. He worked tirelessly to perfect the finishing process, even after his company folded, and he clearly favored results that emphasize the subtle character of the oak with a low-luster, "inthe-wood" type of finish.
Stickley and others used a method of coloring oak in which the wood was exposed to ammonia fumes in an airtight chamber. The method effectively colored the hard, glassy surface of the ray-fleck patterns as well as the rest of the wood, establishing an even tone throughout the furniture. Fuming isn't that hard to do, but there are drawbacks, not the least of which is that ammonia is a dangerous chemical.
Ammonia produces color by reacting with tannic acid in the wood. The color can vary widely in boards from different trees, and the lighter sapwood (often difficult to spot on white oak) will not react to the ammonia. Also, the strength of the ammonia, the length of exposure and the amount of tannic acid in the wood are all variables that make the process difficult to control. Ammonia produces a cool brown tone— color that is devoid of orange or red. Stickley and other manufacturers sometimes corrected this initial fumed color by using warmer tones of dyes or pigment stains. Reading about those finishing practices, it occurred to me to try another approach— to eliminate the fuming process altogether. And I have found that I can finish white oak to look as though it were fumed. I get great results using only water-based dye stain, store-bought oil-based pigment stain and a clear topcoat such as lacquer or shellac. I prefer this method to fuming because it's less toxic and dangerous, and it gives me more control over the final color.
From Fine Woodworking #157
For the full article, download the PDF below:
View PDF