Router Lifts
A look at five devices designed to make the router table more user-friendly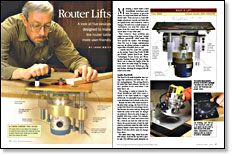 Synopsis: Fine Woodworking shop manager John White compares the attributes and ease of use of several router lifts to find out if these mechanisms can improve height adjustment and bit changing compared to router tables in which the router is mounted to the underside of the table. Router lifts vary in design, sophistication, and cost, so he evaluates five to see whether they indeed put to rest some of the frustrations of a standard mount. Here's how they all stack up.
Mounting a router under a table immediately introduces problems. For starters, to get at the router, you must bend down and reach under the table. Then you have to work with height-adjustment controls and locks that are upside-down and backward. And to change a bit with even a small measure of convenience, you must first remove the motor from the router base so the work can be done on top of the table.
Now, however, those problems just might become things of the past. Several products, generically called router lifts, have entered the market. And although these lifts vary in design, sophistication and cost, all of them promise to make the router table a friendlier place to visit.
I recently tried five router lifts currently on the market: Bench Dog Prolift PL1001 and PL1002, JessEm Rout-R-Lift, Router Technologies Router Raizer and Woodpeckers Precision Router Lift. Each of them allows you to adjust the height of the bit from above the table simply by turning a hand crank. And some of them go a big step further, allowing bit changes with the router in the table.
JessEm Rout-R-Lift
The Rout-R-Lift, made by JessEm, has a carriage that cantilevers out from two -in.- dia. steel guideposts. The carriage flexed a bit under firm hand pressure, but this was not a problem in use, even when I took fairly heavy cuts.
The carriage is raised or lowered by a 20-tpi (threads per inch) drive screw attached to the crank handle by a cogged rubber belt. An adjustable brass nut on the screw eliminated any backlash in the drive.
Because the base of the router mounts to the plate of the carriage, the Rout-R-Lift can accept both fixed-base and plunge routers. But because the router ends up sitting well below the surface of the table, bit changes are awkward. Above-the-table changes are possible with some routers. For example, with a Bosch 1617 fixed-base router in the lift, a wrench can reach the collet nut from above; the second wrench to hold the shaft must be positioned under the table. JessEm plans to release a heavy-duty version of the Rout-R-Lift that allows easier bit changes from above.
From Fine Woodworking #155
For the full article, download the PDF below:
View PDF