Story Sticks Leave Little Room for Error
A time-tested method for measuring and dimensioning parts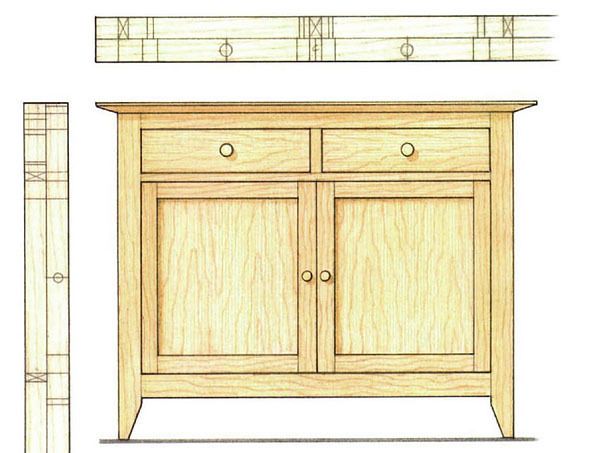 Synopsis: The simplest way to ensure uniformity and accuracy is to eliminate some measuring. By creating story sticks, you create a physical record of a piece and save time to boot. Mario Rodriguez explains the history of story sticks and how making your own will help you set up a machine for repeat tasks, such as chair legs.
If you asked a dozen woodworkers to measure and cut a piece of wood measuring 12 in., you'd likely end up with 12 pieces of slightly varying length. Each time a workpiece is measured and marked, an opportunity for error creeps into the process.
The error factor is an unavoidable aspect of human nature. We're not machines, and each time we repeat a task, the result is likely to be a little different than the time before. A momentary distraction or a tight deadline, and maybe you take a measurement from the wrong side of the piece, read the tape wrong or simply forget a number. This results in a cabinet that doesn't fit into a designated space, a misplaced mortise on a cabinet frame or turned legs that don't match.
The simplest way to ensure uniformity and accuracy is to eliminate some of that measuring, trading the bythe-numbers approach for direct transfer of dimensions. For years, woodworkers have used shopmade gauges called story sticks to create a physical record of a piece, not only improving their accuracy but also saving time.
A story stick is essentially a slender strip of wood (or metal) that holds a series of markings, notches or notations designating the exact locations and profiles of critical elements. The stick can be used to produce multiples or set aside to be reused in the future. The stick saves the time and trouble of remeasuring each time the information is needed, and it virtually eliminates measuring errors.
Story sticks are invaluable for cabinetry
These compact tools are especially useful on job sites, for the layout and installation of architectural woodwork and cabinetry. But story sticks are also used by furniture makers, whether for chairs, turnings or even case pieces.
I was introduced to story sticks as an apprentice working for a trim-carpentry company. When we installed kitchen cabinets and vanities in expensive New York high-rise apartments, we used story sticks to locate cutout in the cabinets for electrical, water and waste lines.
From Fine Woodworking #152
For the full article, download the PDF below:
View PDF