All About Thinning Finishes
You don't need a chemistry degree to understand which solvents work with each kind of finish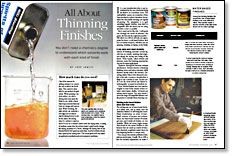 Synopsis: Jeff Jewitt offers a primer on solvents – which ones are appropriate for water- or oil-based finishes, shellacs, or solvent lacquers, whether for spraying, brushing, or wiping on the finish. There's a bit of chemistry, but mostly he identifies various thinners, their drying times, and which finish they work best on. A chart helps clarify the details, and a sidebar tells you what kind of gloves work best with each solvent.
It's a rare woodworker who is not intimidated by the cans of solvents lining the shelves in a hardware store. The multisyllabic names are reminders of less than-productive school chemistry classes, while the dire health warnings are equally off-putting. The temptation is to grab something vaguely familiar, hope that it is compatible with the finish you are using, and leave as fast as possible.
But it need not be like this. I will guide you through the world of solvents—the good, the bad and the unpronounceable. I will show you which solvents are appropriate for water- or oil-based finishes, shellacs or solvent lacquers, whether you are spraying, brushing or wiping on the finish.
A very quick word about chemistry
Almost all finishing materials contain liquids that are volatile, meaning they evaporate during the drying and curing of the finish. These liquids, called solvents and thinners, make the finishing material less viscous for easier application.
Chemists distinguish between solvents and thinners: Solvents dissolve or break up finishing resins and reduce viscosity, while thinners merely reduce the viscosity. Dissolving shellac flakes with denatured alcohol is the only occasion a woodworker is likely to use a solvent as such. For this article I use the terms solvent and thinner interchangeably, as many woodworkers do.
I have divided finishes into four families, roughly in order of the toxicity of their solvents: water-based, shellac, oil-based and solvent-based lacquer. For each family I cover the range of compatible thinners and the points to consider when choosing one.
Thinning water-based finishes takes more than water
The widespread use of water-based finishes is rather new, and in many cases the chemistry behind it is still being fine-tuned. Many woodworkers are aware of waterbased versions of lacquer and polyurethane, but water-based varieties of varnish, gel stain and Danish-oil finishes are also available. While the novice might assume they would be the easiest finishes to thin because they are made up mostly of water, their chemical complexity makes them the least-forgiving finishes to tamper with.
From Fine Woodworking #151
For the full article, download the PDF below:
View PDF