Performax - Closed-Frame Drum Sander ShopPro 25
The closed-frame drum sander from Performax plugs into a 120v circuit for home shop use and features an extension out-feed table.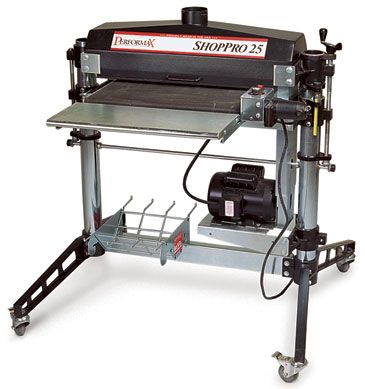 A closed-frame machine is inherently stiffer than a cantilevered tool and will suit the heavier demands of a small, professional shop.
The Performax ShopPro 25 has a smaller motor than the other closed-frame machines I tested, so it's not going to remove stock as quickly as the others. But because the Performax plugs into an ordinary 120-volt circuit, and the machine is designed with mobility in mind, it's well suited for a small shop. The Performax also comes with extension tables for additional infeed and outfeed support, something the other machines don't have.
The closed-frame Performax uses a pair of thick, threaded rods and gears to raise and lower the table. The machine has the best access to both of the abrasive-strip clips. Using a special tool, changing abrasive strips is very easy.