Grizzly Industrial - Closed-Frame Drum Sander G1066
Grizzly's closed-frame drum sander features two drums and plenty of power for heavy-duty shop tasks.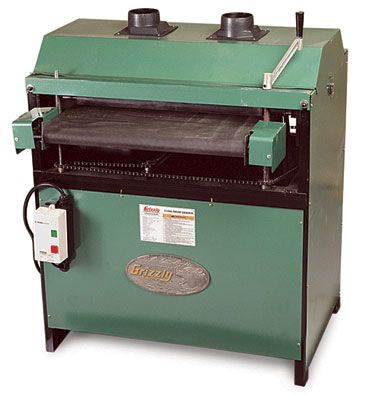 A closed-frame machine is inherently stiffer than a cantilevered tool and will suit the heavier demands of a small, professional shop.
The Grizzly G1066 is unique in that it has two drums, which allow the use of two different grits of abrasive. It's a big machine and has plenty of power. It's also half the price of the other large machines tested. To keep the price so low, however, certain choices had to be made in the engineering and use of materials. The chain-and-sprocket system of raising and lowering the table uses lighter-duty components than the competition. The table on the Grizzly consists of a welded steel frame with a particleboard platen. The feed rate is not adjustable; it runs at a constant 11 fpm. The Grizzly is not as refined as the other machines, but stock came out of the machine flat.
Changing abrasive strips on the Grizzly is awkward. A loose spring clip must be hammered in place over the end of the abrasive strip to lock it to the drum. If the hammer blow is not dead on, the clip may fly across the shop. If you hit it too hard, it snaps. (Extras are provided.) To wrap the drum, a second person is needed to keep tension on the strip (there's a spring-loaded mechanism at work) while the first person turns the drum. For a one-man shop, this could pose a problem. Once the abrasive is wrapped, a strip of filament tape holds it in place. There is no hook-and-loop backup. The second drum (outfeed side) comes wrapped with felt to make up for the difference in stock thickness after it passes by the first (coarser-grit) drum. Abrasive installation is the same.
I tore the filament tape on the Grizzly's drum while I was sanding wide stock. When the filament tears, the sanding strips unravel and self-destruct. But I think this problem can be mitigated. The instructions have you place the tape a few inches in from the edge of the drums, where the abrasive strips end. But with the tape located right above the edge of the conveyor, it's all too easy for stock to make contact with the tape. By cutting slightly longer abrasive strips and taping them to the very edge of the drums, contact with stock may be avoided.