RB Industries - Closed-Frame Drum Sander 426
The RBI 426 closed-frame drum sander uses a hook-and-loop abrasive strip.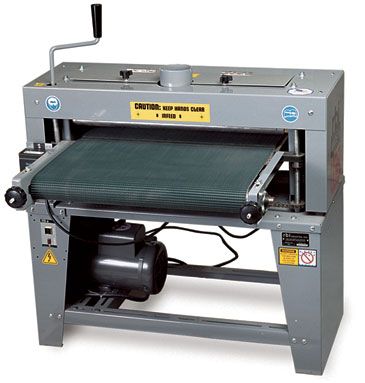 A closed-frame machine is inherently stiffer than a cantilevered tool and will suit the heavier demands of a small, professional shop.
The RBI 426 is a smooth-running sander with plenty of power. It's heavy and would do fine as a stationary machine, although mobile bases are available for it. It requires a 220-volt power supply.
The RBI has a 5/8-in.-thick Blanchard ground-steel table. The table is supported by four jackscrews that are synchronized by sprockets and chain. Although the machine was delivered properly tuned, adjustments can be made, if necessary, by fiddling with the chain and jackscrew sprockets.
The RBI 426 has a two-ply monofilament, rough-top conveyor belt, the same belts used on wide-belt sanders. Conveyor speed is adjustable, from a crawl up to 20 fpm on the RBI.
It uses a hook-and-loop system for fastening the abrasive strip to the drum. An adhesive-backed hook strip is attached to the drum, and the abrasive strip is loop-backed.
Abrasive-strip changes are a bit difficult with the RBI because the working space is constricted. I ended up pinching my fingers between the drum and the dust-pickup chute a few times. The machine also uses a narrow abrasive strip, which means more revolutions around the drum. RBI recommends the use of filament packing tape on both ends of the drum. In general, the hook-and-loop systems seem to work very well.