Ryobi - Cantilevered Drum Sander WDS 1600
Ryobi no longer produces a cantilevered drum sander.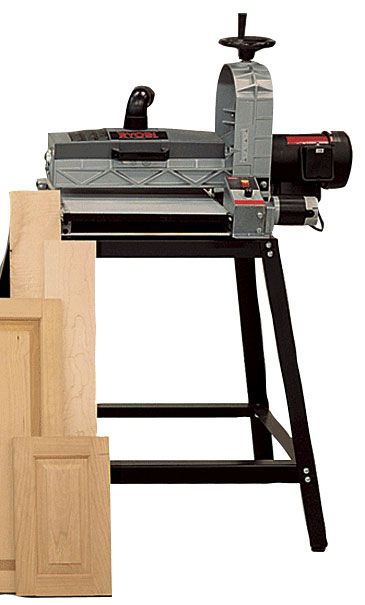 Cantilevered drum sanders offer lots of capacity for a modest price. Stock up to twice the width of the drum may be sanded in two passes.
The Ryobi WDS 1600 emulates the Performax in design but doesn't have all the features of the original. The Ryobi uses a nonabrasive conveyor that does a good job of gripping stock. However, the conveyor moves only when the drum is running, which makes setting the initial depth a bit awkward (for more on setting the sanding depth, see the story at left).
Adjusting the drum to accommodate wide or narrow stock points out the major difference between the Ryobi and the Performax. Instead of a fine adjustment knob, the Ryobi relies on shims (two 0.010-in. shims are provided) to reset the gap between the drum and conveyor at the open end. The table can be shimmed at the open end of the sander and then brought to parallel with the drum. To achieve a wider gap, remove one or two of the shims and retighten the Allen-head screws. To return the drum and table to parallel, the process is reversed.
The Ryobi has a hard-to-reach clip on the motor side of the drum, which makes changing abrasive strips difficult. By jamming a wedge under the drum, I was able to keep it from turning while attaching the strip to the second clip. (By the way, the Performax tool won't work on the Ryobi unless you modify Ryobi's spring clip.)