Delta - Cantilevered Drum Sander 31-250
Delta's cantilevered drum sander features a two-speed drum.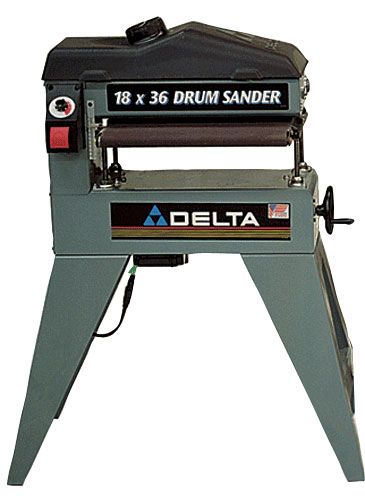 Cantilevered drum sanders offer lots of capacity for a modest price. Stock up to twice the width of the drum may be sanded in two passes.
The Delta 31-250 has a fixed sanding drum mounted in a formed and welded steel frame. Four jackscrews synchronized by a toothed belt raise and lower the cast-iron table. Turning a pair of adjustable nuts at the top of the jackscrews on the open end of the machine changes the drum-to-table alignment.
The Delta also has a two-speed drum. By loosening the motor-mount bolts, the belt can be moved to a different set of pulleys, dropping the drum speed by approximately 30% and providing more power for stock removal when using coarse abrasives.
A 120-grit abrasive belt used for the conveyor holds stock securely, without slippage. I did find that carelessness on my part led to inadvertent scratch marks on stock. Sliding a finely sanded piece sideways on any of the abrasive-type conveyors can mar the workpiece.
Changing abrasive strips on the Delta is simple. The clips are accessible and easy to operate with your fingers. An abrasive change takes only a couple of minutes.