Performax - Cantilevered Drum Sander 16-32 Plus
Performax's cantilevered drum sander is the industry standard; its first version of the tool was released in the mid-1980s.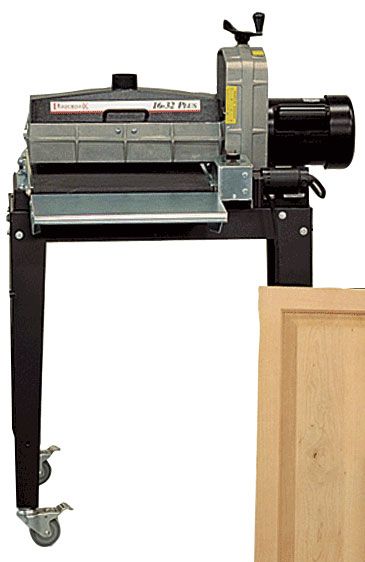 Cantilevered drum sanders offer lots of capacity for a modest price. Stock up to twice the width of the drum may be sanded in two passes.
Performax first appeared in the mid-1980s and offered a drum-sander conversion for radial-arm saws, a unit that's still in production. The success of that first sander has led to the development of a whole group of drum sanders—both cantilevered and closed frame—and continual improvements.
The Performax 16-32 Plus has a fixed table. The drum moves in a cast framework that is substantial and fully adjustable for wear. To tilt the drum (actually, the entire upper portion of the machine) for sanding of extra-wide stock, four bolts are loosened; then a fine-tune adjusting knob, which tensions the framework, is turned to raise or lower the outboard end of the drum. The power-feed conveyor on the Performax is 120-grit abrasive and does a good job.
The Performax comes with a cleverly designed tool that grips the clip on the motor side of the drum, which, because of a tight fit, is difficult to reach. With the tool, changing abrasive strips is easy.