A Circular Saw in the Furniture Shop?
For cutting sheet goods in tight quarters, this carpenter's tool, used with a sacrificial table and dedicated cutting guides, produces joint-quality cuts with ease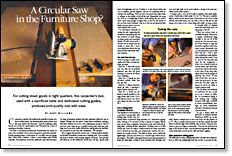 To compensate for his small, no-frills shop, Gary Williams uses a circular saw to cut full sheets of plywood and lumber. In this article, Williams offers tips for tuning a circular saw to make quality cuts, and share plans for a sacrificial cutting table with folding legs that he uses strictly for cutting sheet goods with a circular saw. He lists the other ways he's used this cutting system, which include straight-lining crooked boards, mitering, and ripping skinny pieces.
From Fine Woodworking #143
View PDF