Sideboard Strategies
With this four-part construction system, you can design and build in any style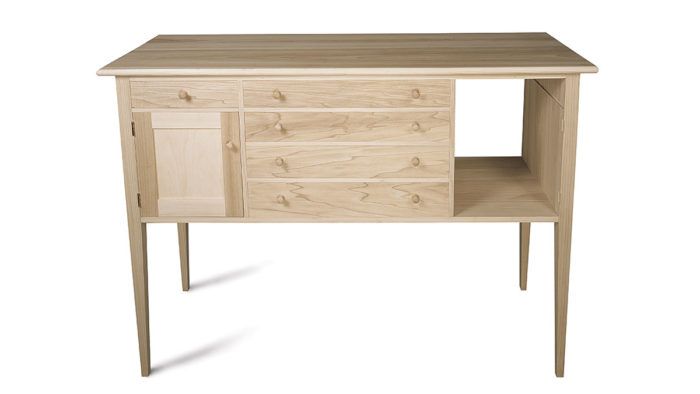 Synopsis: For Will Neptune, a key in making furniture is balancing design complexity and construction simplicity. He builds sideboards by making a dovetailed box turned on its side. It has fewer joints; his method helps the case swell and shrink as one piece. Here, he explains basic sideboard design and his construction method – how he uses built-up ends and dovetails. He talks about other construction styles, too, to save wood or result in a different look. He discusses proportions and style and how changes in proportion alter the effect of the piece. A sidebar on style details helps clarify Federal from Stickley from Greene and Greene.
It is all too easy to sketch something that looks good, only to discover that you have no reasonable way to build it. You either develop overly complex construction methods or sacrifice the design you really want because it's too difficult to build. The solution is to strike a balance between design complexity and construction simplicity. It helps to start by thinking of a piece in its most basic form, then develop a single construction system that can accommodate a wide range of design options.
I like to tell my students at North Bennet Street School that a sideboard is little more than a box with legs attached. Though it sounds oversimplified, this approach puts things in familiar terms-everyone knows how to build a box. It becomes a question of how to build the better box. Historically, sideboards were built using post-and-rail or frame-and-panel construction, but I prefer this method, which calls for a dovetailed box turned on its side. My alternative approach is less familiar, but when you start counting the joints necessary to build a frame-and-panel sideboard, you understand the logic of a dovetailed design. With this method, there are fewer joints to cut, and the ones you do cut aren't seen, so there's no need to be overly meticulous.
This construction system is based on a few rules concerning joinery. If a case part joins another at a corner, dovetail it; if one part meets along another's length, use multiple tenons. Dovetails and tenons are both strong joints that allow for wood movement and resist racking. Because all of the structural parts of the case have grain running in the same direction, the case expands and contracts together. Out simply, the case is still just a long, dovetailed box with legs attached.
From Fine Woodworking #138
View PDF