Woodstock International - Rebel Router Table
A free-standing router table with fence accessories.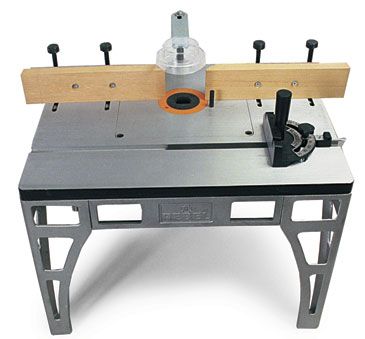 For the small shop, a table-mounted router can do all that a shaper can and maybe more. Raised panels, box joints, dovetails, mortises, tenons and moldings are but some of the operations possible with a router.
It's not too difficult to cobble together a workable shopmade router table. But it may lack some features available from a commercially made table. There are many tables to choose from, everything from basic units costing about $50 to setups costing $500 or more, depending on the options. I looked at 15 tables for this article.
All router tables operate on the same basic concept. A router is mounted upside down, usually on a removable baseplate, although a few mount directly to the tabletop. For many operations, the router table is used in conjunction with a fence.
Most router tables are mounted to a stand, either a short one for benchtop use or a table-height one for freestanding units. Some router tables can be attached directly to the extension wing of a tablesaw. A benchtop model is good for its portability and small footprint. But the best of the freestanding units have larger tabletops and provide a more stable work surface.
Insert rings on the Woodstock Rebel aren't flush with the underside of the baseplate and can interfere with mounting the router.