Garden gate made of white cedar
Jigs simplify construction of this elegant outdoor gateway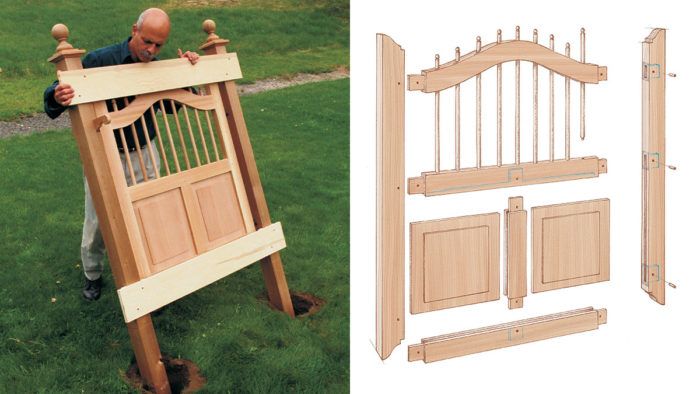 Synopsis: Mario Rodriguez designed this garden gate to be wide enough for a wheelbarrow but narrow enough for an intimate feel. Features include delicate round spindles with finials, a curved oxbow rail, twin panels, and pegged mortise-and-tenon joinery. He explains how to build it by first milling the rails and stiles, and then making a solid raised panel. Simple jigs help make custom spindles, and he details how to make them without a lathe. Drill and shape the oxbow rail, and use ready-made posts, finials, and hinges. Hang the gate, and then bury the posts, using plywood yokes. A detailed project plan shows his design.
I like to think that a gate is the portal to a special place. In a garden or private outdoor spot, one often labors for months, lifting stones, turning soil, preparing beds and spreading fertilizer, all in the hopes that fruits and flowers will grow. A place like this deserves a special entrance. I wanted a gate that was sturdy but lightweight and not overbuilt. I also wanted it to be joined as a piece of fine furniture would be, not simply nailed together. I set out to create a traditional design that was graceful and inviting, something that would age well instead of becoming an eyesore in the years to come.
I designed this gate for a 36-in.-wide opening—large enough to accommodate a wheelbarrow yet narrow enough to give the garden area an intimate feel. I wanted to create the feeling of a private, almost hidden passage to a lush, little patch. At the same time, I didn't want a forbidding barrier. Toward this end, I designed the gate with a gently curving oxbow upper rail that suggests a rolling landscape.
The design of the gate draws on the very idea of a garden. The upper half is made up of delicate, round spindles ending in elegant finials, suggesting flowers. The curved oxbow rail joins the upper half of the gate and supports the ends of the spindles. I designed the bottom half of the gate with twin panels that are deeply set into grooves in the rails and stiles but are free to move within the frame. The frame is constructed with pegged mortise-and-tenon joints, which give it a clean and structured appearance, similar to a graceful English style garden bench.
I don't believe in skimping on material. I chose 11⁄2-in.-thick clear cedar, pulling boards from the lumberyard stock with nice, straight grain and even color. This prime material cost me a bundle, but it virtually guarantees a straight and clean project that will stand up beautifully over time.
Mill the rails and stiles
The construction of the gate is based on a 1⁄2-in. groove centered on the 11⁄2-in. thickness of the stock. After ripping the straight stiles and rails to 3 in. and a wider 8-in. piece for the oxbow rail, cut them to length, remembering to add the length of the tenons to each piece. All of the rails and stiles are then grooved along their lengths to accept the solid panels on the bottom half of the gate.
From Fine Woodworking #137
For the full article, download the PDF below:
View PDF