Break Out of the Bathroom Vanity Box
Think table when building this Shaker-inspired design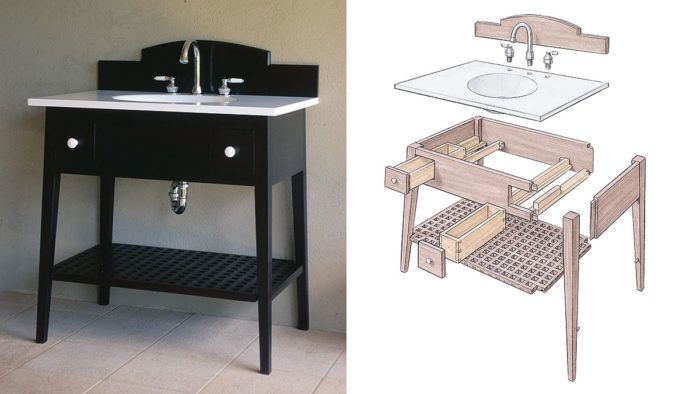 Synopsis: Ian Ingersoll says the vanity he designed and details in this article, with its gently tapered and splayed legs, is an outgrowth of the Shaker tradition. He made it from a cheap grade of walnut, which he oxidized a deep, mocha brown with potassium permanganate. It doesn't use a standard size top, but he offers direction on how to adjust dimensions if needed, and a dimensioned drawing details every inch. Not counting the floating grate or the backsplash, the essence of the vanity is four legs and four aprons, plus the two drawers, and he makes them in that order. His tip for making the grate is to cut a series of dadoes across a wide 1-in.-thick board, then rip the board. The article includes information on choosing a solid-surface vanity top, the clever way Ingersoll floated the grate, and how to use a rich finish on poor wood.
Lately I've grown tired of vanity cabinets. Apparently I'm not alone, because in catalogs and showrooms, I see more and more bathroom furniture: table-like vanities, stand-alone cabinets, little stands for serving up towels. But I didn't arrive at my design from the ranks of the avant-garde; rather, this vanity, with its gently tapered and splayed legs, is an outgrowth of years of working in the Shaker tradition.
I see it as a forward-looking nod to the Shaker washstand. I've also grown tired of cherry, a wood I feel furniture makers have worked to death. I made this vanity out of walnut, and a cheap grade at that, oxidized a deep, mocha brown with potassium permanganate. The vanity base fits comfortably under a solid-surface top and relies on a few simple design moves and the striking ebony-like finish. With this design, you won't need a fat wallet to make your bathroom look like a million bucks.
In designing the vanity, I had to consider a few issues particular to the genre. For height, I went with a fairly standard 33 in. For width, a 34-in. top felt right, and it allowed for two narrow drawers, one to either side of the bowl. The one caveat is that 34 in. is not a standard top size. You could adapt my design for either a 31-in. top or a 37-in. top, the two standard sizes closest to 34 in. Or you could have the top custom fabricated, as I did. Regardless of the width you choose, you may need a custom top to get one without the standard-issue integral backsplash.
All vanity tops are 22 in. deep, so to determine the overhang and the ultimate width of the table, I had to work back from 22 in. The key is to allow enough overhang in the rear so that the backsplash will sit flush against the wall and the legs will leave room for baseboard molding.
Even a vanity-as-table benefits from storage space. So I insisted on the two drawers, and I included a grate for a shelf. I'd used a similar floating grate on a kitchen island, and it seemed just right for this vanity.
From Fine Woodworking #132
For the full article, download the PDF below:
View PDF