An Inspired Tool Chest
Duncan Phyfe''s personal tool chest begets a handsome adaptation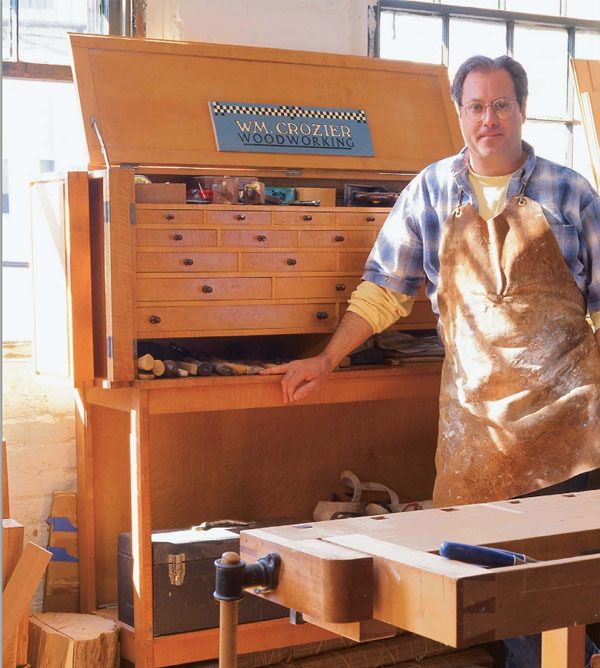 Synopsis: Early in his woodworking study, Bill Crozier had the luck to examine Duncan Phyfe's tool chest, a ruggedly built blanket chest with drawers and compartments inside for tools. The till had rows of shallow, beautifully proportioned drawers, joined with flawless dovetails, and below the drawers were dozens of molding planes nested in neat compartments. Crozier, in designing his own chest, lifted the drawer till and placed it on an open stand at a comfortable height. He shares how he organized his tools and how he built a lid and accordian-style doors that fold out of the way. And he explains how his use of the chest today is different from how he envisioned it when he first designed and built it.
Between my freshman and sophomore years at the Rhode Island School of Design, I was looking ahead to the fall when I would begin studying woodworking under Tage Frid. That same summer, my father mounted a show of illustration at the New York Historical Society. The exhibition was a pretty big deal—but with precious little relevance, you might think, to woodworking. However, one evening as my father entered the Historical Society by the usual after-hours route—through a basement area stuffed with holdings in storage—he stumbled upon an extraordinary find: the tool chest of Duncan Phyfe, the New York City cabinetmaker who gave his name to an elegant style of furniture in the first decades of the 19th century. My father said he'd try to get permission for me to see it. A week later, I got my chance.
If I had seen the chest closed, I might have walked right by it. Typical of OldWorld style joiner's tool chests, it was essentially a ruggedly built blanket chest with drawers and compartments inside for tools. This box had the usual simple, scuffed exterior, but when the lid was lifted, I was in for a treat. The drawer box, or till, had rows of shallow, beautifully proportioned drawers veneered with crotch Cuban mahogany and filled with scores of exquisite tools, with handles of bone or ebony or rosewood, all well used but in superb condition. The drawers were joined with flawless, tiny dovetails and sported pulls turned from elephant ivory. Below the drawers, dozens of molding planes were nested in neat compartments.
I wasn't permitted to touch the chest or the tools, but the curator who agreed to let me see them said that if I wanted anything moved I could ask the guard on duty nearby. Well, I gave the poor guy a workout. I was there the better part of a day, absorbing and drawing every detail. After sketching the cabinet construction and layout, I noted which tools were contained in each of the drawers. I took particularly careful notes because I knew that the first project in Tage Frid's curriculum was to build a tool chest, and I figured I had found a pretty good starting place for the design of mine.
In the following weeks, I worked to design my own tool chest, using Duncan Phyfe's as inspiration. What appealed to me most about his chest was the drawer till, with its pleasingly slim and perfectly proportioned drawers. I decided to make a fairly direct copy of it, adding one row of drawers.
From Fine Woodworking #132
For the full article, download the PDF below:
View PDF