In Search of the Right Mortising Technique
Five strategies from hand tools to expensive machines for cutting fast, easy and accurate mortises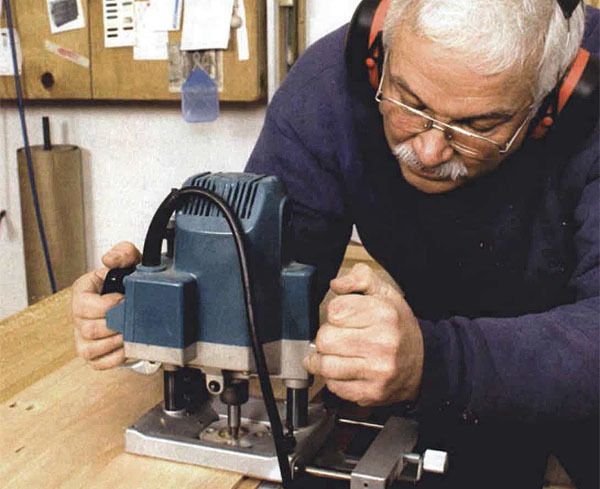 Synopsis: Strother Purdy of Fine Woodworking asked several woodworkers how they cut mortises. He sought out Carl Swensson, Brian Boggs, Jeff Miller, Nial Barrett, Tom Stangeland, and Chris Becksvoort. Swensson spoke about how good design, fit, and glue make strong mortises. Boggs uses chisels for low-cost but high-skill mortising. Miller prefers plunge routers for fast, simple, and precise mortises. Barrett uses hollow-chisel mortisers. Becksvoort likes his slot mortiser. Purdy picks his favorites among the options and includes tips on router milling jigs. Side information addresses the question "What makes a good mortise?".
The first mortise I cut looked as though a miniature dynamite charge had been set off inside the board. Splinters pointed out of the hole in every direction. Inside, my chisel had mashed out nooks, crannies and side passages instead of cutting the straight, flat and square hole I intended. It was plain to see that I had not been born with the skills to chop mortises by hand.
For a while I contemplated buying my way out of learning this skill. Though a good craftsman never blames his tools, I reasoned, a smart one tries to use the best one for the job. My tool wish list, however, was long and underfunded. A jointer and a planer had higher priority than a plunge router or a hollow-chisel mortiser.
In time I learned to cut mortises by hand with reasonable speed and pretty good results. It took a while, but I found I enjoyed the work. The mortises didn't look too hot, but the assembled joint eventually hid them from discerning eyes. I did wonder how strong they were. I knew that yellow glue did not hold across or fill gaps. This told me the uneven fit of my mortise-and-tenon joints couldn't be very strong. Sure, they held together when I tried to pull them apart, but I had no way to test them for the years of use and abuse I wanted them to withstand. It was time to find out how well the mortise had to fit the tenon to stay together and then learn how to cut them that way.
Good design, fit and glue make strong mortises
I asked Carl Swensson, a woodworker with more than common knowledge about joinery, what made a mortise-andtenon joint strong. His lengthy reply, which lasted several days, was both enlightening and frustrating.
Boiled down, a strong joint is the product of balanced design (so that one member isn't stronger than the other), an accurate fit and a good glue bond. Everybody knows that glue will make a joint stronger. Swensson was the first who could tell me why. When a joint is under stress, the glue bond spreads it across the cheeks of the mortise and tenon. In a joint without glue, such as one that's only pegged or wedged, the stress will concentrate along edges and at points. This means that the fit must be tight in these places. In a glue joint, the fit is still important, but the accuracy and quality of the glue surfaces are crucial.
From Fine Woodworking #130
For the full article, download the PDF below:
View PDF