Finish Cherry … without Blotches
This common problem can be avoided easily by choosing either of these methods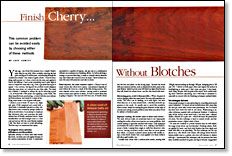 Synopsis: Blotching is a nagging problem all woodworkers have if they try to stain cherry. Professional finisher Jeff Jewitt shares a compelling story of his own mistakes in handling cherry and offers advice on how to avoid them. Blotching happens when stain penetrates unevenly because of resin deposits, alternating grain, or improper sanding. Jewitt offers a tip for checking wood to see how splotch-prone it may be, and then shares strategies on how to cope with it. A quick, easy method uses oil and shellac to supply color without stain, and the instant aging method adds depth and evens out the tones of different boards. Jewitt explains how to apply both finishes. Side information explains how to make your own water-soluble stain and how to handle stains safely.
Years ago, one of my first projects was a simple Shakerstyle table for my wife. After carefully selecting the best grain and figure for all the parts, and sweating through the construction details, I was ready to apply a finish. I wanted something really special, so I chose a dark-red dye stain and applied it first to the tabletop. I had a sense something wasn't quite right as soon as I wiped the stain with a rag. Dark, ugly splotches began to appear. I was nervous, but figured the problem would disappear when the stain dried, so I stained the rest of the table. The result was a disaster. I managed to salvage the top by removing a good in. of wood with a belt sander and applying a clear finish. But those beautiful book-matched legs, covered with the most delicate ray fleck patterns, now stand in a corner of our living room under a coat of green milk paint.
Cherry is a joy to work. It's easy to cut, shape and sand. If left unstained and coated with a clear finish, it eventually matures to a deep, reddish-brown color coveted by antique dealers as well as woodworkers. In an attempt to duplicate that old-timey color and overcome the pinksalmon hues of freshly machined cherry, many woodworkers use full-strength stain as a first coat and end up with the same blotchy mistake I did. But there are ways to avoid splotching. The first step is to understand the causes.
Knowing why cherry splotches will help you avert the problem
Splotches develop in cherry (and other woods like birch, red alder and soft maple) because of the uneven penetration of stain. It penetrates unevenly for a number of reasons, and any one or a combination of them can condemn your finishing efforts. So before devising a strategy to prevent blotching, it helps to identify which obstacles may exist within the wood you have on hand. I know of three reasons why stain will penetrate unevenly in cherry.
Resin deposits, the most common culprit—Cherry is one of many woods that often have unseen, concentrated deposits of resin within the wood as a result of the kiln-drying process. The resin deposits attract stain solvents, causing stains to penetrate more in some areas and less in others. It's hard to know when this is going to happen. One easy test will warn you of trouble ahead.
From Fine Woodworking #130
For the full article, download the PDF below:
View PDF