Buying Used Machinery
How to tell whether old equipment is a bargain or a boat anchor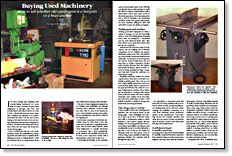 Synopsis: Robert M. Vaughan, who's been buying and repairing used woodworking machinery for more than 20 years, says the condition the machine is in matter more than the price. Be honest about your repair tolerance limits before buying something, he advises. Older doesn't always mean it's better, either. He explains how to find good used machines, advising that you take along a buyer's tool kit, and says that well-known brands are usually a good buy. He talks about what to avoid, how to evaluate a machine's maintenance history, and pitfalls to watch out for. He includes a list of things to check for – the adjustments, the frame and table for distortion, motor size demands, power train, and its portability. And he tells you the best trucks to use from hauling home your prize once you've found something that meets your demands.
I've been buying and repairing used woodworking machinery for more than 20 years. Demand for good used equipment is stronger than ever, and woodworkers often ask for advice on what to buy. I always tell them the same thing: The condition the machine is in matters more than the price. You can save money buying a used machine just as you can buying a handyman special when shopping for a house, provided you're handy and you go into it with your eyes open.
Every woodworker has his own repair tolerance. Some are intimidated by changing a belt, and others have no qualms about making new parts or welding frames. You'll do yourself a favor by being honest about your limits before buying a used machine.
The price of used equipment depends on its condition and desirability. An essential machine, like a tablesaw, in good condition often sells for close to the brand-new price. A less-desirable machine from a little known manufacturer may sell for a third of its original price.
Just because a machine is old doesn't necessarily mean it's better than a new one. Some new models have compelling advantages, such as better safety features, easier cutter adjustments or a greater assortment of accessories. But a used professional grade machine will probably perform better than a new entry-level model. Will a used machine need work? Count on it.
A thorough knowledge of new machine prices and potential repair costs will help you decide when a used machine is worth the effort to repair it. A big bandsaw with a three-phase motor may need $1,000 in electrical parts alone. If you had planned to buy a $15,000 bandsaw, the investment would be worth every penny. But if a modest 14-in. bandsaw selling for $200 will need $500 in parts, it's clearly no bargain.
Finding good used machines
Finding good used equipment is often a matter of waiting. For me, the best deals seem to come from letting plenty of people know what I'm looking for. I sometimes end up with dead-end leads. But I also learn about some great buys before they get into the classifieds.
From Fine Woodworking #122
For the full article, download the PDF below:
View PDF