Antiquing Hardware
Readily available, inexpensive hinges and pulls can be turned into classy accents for your furniture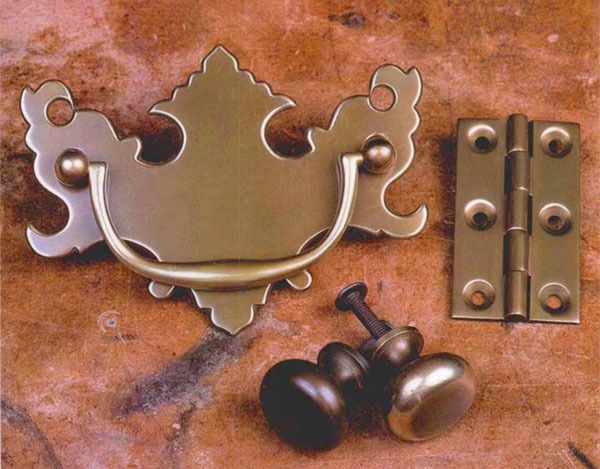 Synopsis: Gary Rogowski and Stephen Winchester explain how to make zinc-coated steel or brass hardware look antique. Rogowski likes simple, not showy, hardware, and his method for taking the shine off brass just takes a few hours. He removes the protective finish found on most modern hardware by soaking it in lacquer thinner overnight. Then he puts it in an ammonia chamber, and after it's done, coats it in paste wax. Winchester patinates steel by removing the zinc coating with muriatic acid, then rinsing the hardware with cold water, drying it, and heating it up until it's red-hot. He does this in his woodstove. After it cools, he brushes each piece with a toothbrush and applies a coat of wax. Both authors include helpful tips and important safety considerations.
Just as you can choose a stain to get the exact wood color you want and a finish for a certain sheen, you can also pick the finish for your hardware. The finishes can be bold and bright or subdued and understated.
Here are two techniques for making custom finishes for hardware. One is for antiquing zinc coated steel hardware; the other is for antiquing brass. Not every piece of furniture calls for antiqued hardware, but for some custom pieces, one of these techniques will give you just what you're looking for.
Bright, shiny brass appeals to many people. But for my one-of-a-kind, custom pieces, I want the hardware to be like the woodwork itself-simple, not showy. So I take the bright brass hardware available at the local hardware store and mellow it so it looks like it's been around for a few years. The best part is that this patination process takes just a few hours.
Most store-bought hardware has a protective finish on it to preserve its sheen. I remove it by letting the hardware soak in the lacquer thinner overnight. Swirling the hardware around in the jar a few times helps ensure that all the finish is removed. After the finish is gone, fish the hardware out of the lacquer thinner with thin scraps of wood or chop sticks. If you use your hands, wear rubber gloves because fingerprints will show up as smears on the patinated hardware.
From Fine Woodworking #121
For the full article, download the PDF below:
View PDF