How to Hang a Cabinet Door
Install butt hinges carefully for a precise, non-binding fit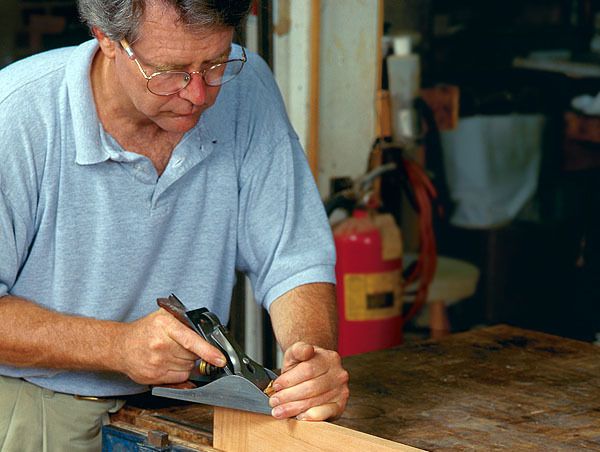 Synopsis: Regardless of the type of hinge you select, Philip C. Lowe says, all hinges depend on careful installation for smooth operation. He starts with a list of questions to ask yourself before you start building your project. Once you get to the door, fit it on three sides first. Lowe explains how to locate the hinges on the door, how to cut the mortises in the door, and how to mark and cut the case. He uses battens to support the door and fit the hinge leaves into the mortises. He offers tips on how to get the gap right for double doors, too.
It's the simple pleasures that make my day. Fabricating a pair of doors, mortising them for good-quality butt hinges and then installing the doors so they function without binding all add up to one of those simple pleasures in furnituremaking—a door that's hung right.
Real technological advances have been made in hinges in the past 20 years. For cabinetwork, you can choose butt hinges of stamped sheet brass bent around a steel pin, hinges of extruded material milled to shape and fitted with either fixed or loose pins, cast hinges milled with stops, hinges with one leaf longer than the other, or hinges with and without finials. For more on these choices and where you can get them, see FWW #112, pp. 68-73. All of them, though, depend on careful installation for smooth operation.
Choose before you build
The best time to select hinges for any project is in the design phase. Here are some of the questions you should ask:
Is the hinge strong enough to support the weight of the door?
Where and how will the hinges be installed?
How many hinges do you need?
How thick is the material the hinges will – be set into?
What size screws will you need to secure the hinges?
Will those screws have, enough holding power?
For casework, like the cabinet shown in the bottom right photo on p. 72, you will have to decide whether you want the doors to have an overlay or an inset design (meaning that they fit within the frame of the case, as I did with this one). With an inset design, the thickness of the door will determine the size of the hinge. With an overlay design, the thickness of the case, or face frame, will dictate the width of the hinge leaf. Butt-hinge sizes are specified by their length and their width in the open position, which includes the width of both leaves plus the knuckle.
From Fine Woodworking #119 
For the full article, download the PDF below:
View PDF