Benchtop Machines Make Mortising Affordable
A look at six models currently on the market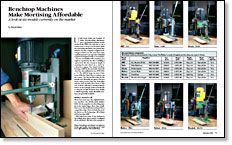 Synopsis: Bernie Maas takes a look at six affordable benchtop mortisers and explains their history and how they work. He compares the machines' amps, depth control, head return, chuck capacity, and price, and lists their suppliers. He talks about how simple – or complicated – they are to assemble, why a hold-down is essential, and how accessing the drill chuck isn't always easy. He covers motor power, handle bars, counterbalance, extras such as chisel bushings and spindle extensions, and storage caddies. Find out which model won his approval.
Until Lewis Parks, the founder of Parks Woodworking Machinery, put a mechanical mortiser on the market in the 1880s, the only way to cut a mortise was to chop it out by hand. Parks Woodworking Machinery has passed into oblivion, but the company's original technology evolved over the years into some sophisticated and very expensive industrial equipment designed solely to cut mortises.
If you're not familiar with a mortiser, you might be stymied by the idea of drilling a square hole. But the concept is simple. A mortising bit and chisel cut a circle inscribed in a square. The chisel is hollow, housing a drill bit that protrudes from the chisel by a few millimeters (see FWW #116, p. 71). The drill bit hogs out most of the waste while the chisel shaves or shears out the corners. The big machines that do this quickly and efficiently are gems—but you need a wad of cash to buy one. Your other options, until recently, have been to buy one of those drill-press mounted attachments, set up a plunge router to do the job or chop the mortise by hand. Now, thanks to British ingenuity, small, affordable mortisers are generally available.
Multico started it all
About four years ago, the original benchtop machine, the British-made Multico PM12, hit the popular woodworking market in the United States. Since then, a halfdozen or so knockoffs have jockeyed for a competitive edge. These include the models shown on the facing page. All of them sell for less than $400.
With help from some of my students in the college shop where I teach, I evaluated all six machines. We had a few months to play around with them, so we got a good feel for how well they work. At the outset, I should mention that the Grizzly, the Woodtek and the AMT machines look identical except for the paint jobs and that the AMT sports a few brass setscrews in place of Allen heads. In general, all the machines we looked at are well-crafted and nicely appointed—the only differences between them are in the minor details. But some of the minor details can make a big difference in the way they work.
From Fine Woodworking #118
For the full article, download the PDF below:
View PDF