Polyurethane Glue
This one-part alternative to epoxy fills gaps and sands easily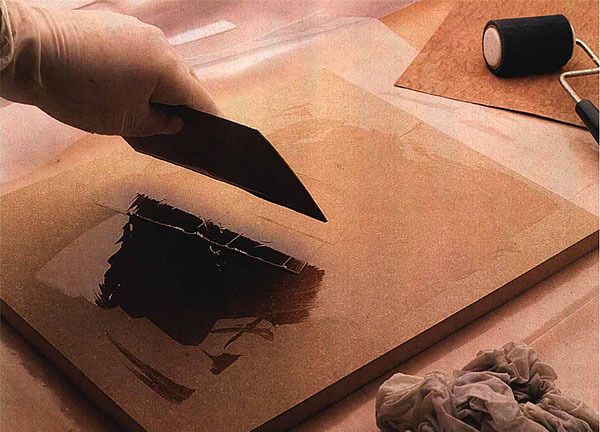 Synopsis: Polyurethane adhesives have some real advantages over epoxy and yellow glue, but they also have some characteristics of their own that require practice to get the hang of using them. Niall Barrett talks about where polyurethane glue works best and how it differs from other glues. He explains how to clean it up, and how cost is relative – a little goes a long way, it helps you move faster, and it enables you to tackle jobs you might not do otherwise.
I tried polyurethane glue for the first time a few years ago when I was making some laminated, exterior doors. I had used epoxy in similar situations in the past. Epoxy is a great glue, strong and waterproof. But laminating takes a lot of glue and epoxy can get very messy—to say nothing of the fumes it gives off as it cures.
Although I didn't know much about polyurethane adhesives, I thought they'd be worth a try. When I looked into it, I found that polyurethane glue has some real advantages over both epoxy and yellow glue. But these adhesives do have some characteristics of their own, and it takes some practice to get the hang of using them. Experimentation is a must.
Two brands, Gorilla Glue and Excel, are available as woodworking glues in the United States. These glues have an impressive list of qualities. Like epoxies, they are waterproof. Unlike epoxies, they're onepart glues, ready to use out of the bottle. Clamping pressures required to bond parts are low.
Polyurethane glues expand as they cure. This expansion, actually a foaming, forces the glue into wood fibers and forms a fine, closed-cell structure. The expansion also provides some gap filling, enough to fill the joint cosmetically and keep moisture out. But be careful, the glue that fills gaps doesn't provide structural strength.
When cured, these glues don't creep. They retain enough elasticity to eliminate the glue fatigue that results from shrinking and swelling joints. And these glues sand easily. When sanded, the hardened glue becomes porous and takes stain readily. Instead of melting from the heat of friction, like polyvinyl acetate (PVA) glues (yellow and white glues) and epoxies, polyurethane glues turn into a powder that won't clog sandpaper or dull tools. These glues contain few, if any, solvents.
Where these glues work best
I originally thought polyurethane glue should be used only when I needed a waterproof bond. But I find myself reaching for it more often. Except for instances when I need structural gap filling, I feel confident replacing epoxy with polyurethane glue in my shop.
In situations where it's difficult or impossible to use clamps, polyurethane glue is ideal because it requires low clamping pressure. You can literally hold things together with tape or string while the glue sets. Edge-gluing with this adhesive is a little easier because when correctly applied, the glue doesn't allow boards to slide around much.
From Fine Woodworking #113
For the full article, download the PDF below:
View PDF