Oscillating Spindle Sanders
Why you should have one and which you should buy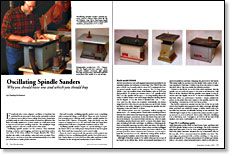 Synopsis: To Charley Robinson, an oscillating spindle sander is a great way to remove jigsaw, scrollsaw, and bandsaw marks. Oscillating spindle sanders eliminate burning, scratches, and clogging, and their up-and-down action uses more of the drum surface, yielding a longer abrasive life. Robinson compares four models – a Ryobi, a Vega, a Powermatic, and a Clayton, and tells you which one he would choose, and why. He also talks about finding replacement sanding belts.
Everybody who owns a jigsaw, scrollsaw or bandsaw has searched for an easy way to clean up the sawmarks on those sinuous curves they've been cutting. Most home shops have probably made do with a drum sander chucked in a drill press. But that's not totally satisfactory. A drum sander on a drill press tends to burn wood and leave sanding scratches. The sandpaper clogs quickly, and you only use a small section of the drum.
Oscillating spindle sanders are the solution. They eliminate burning, scratches and clogging, and their up-and-down action uses more of the drum surface for longer abrasive life. These sanders also make work quicker, easier and more accurate: They allow you to cut close to your line and sand precisely to it so that you don't have to make perfect sawcuts.
But until recently, oscillating spindle sanders were something only commercial shops could afford. There are now, however, four manufacturers offering small, portable spindle sanders for less than $700: Clayton, Powermatic, Vega and Ryobi (see the sources of supply box on p. 56). And both Delta and Sears have indicated they will have comparable machines early in 1995.
Oscillating spindle sanders require no special training to operate, they're safe to use (with proper dust protection) and do a great job. Their small size means they can be stored easily.
If you do much curved work, the question at this point is not whether to buy an oscillating spindle sander, but which one to buy. I had a chance to look over four of the units, and here is what I found to be the strong and weak points of each of them.
Ryobi model OSS450
Ryobi's introduction was well-targeted and priced precisely for its intended market: the hobbyist woodworker. The OSS450 has a list price of $340, but it usually sells for about $175, making it the lowest priced spindle sander in the category. The 3.5-amp motor (about hp), the smallest of any of the sanders, spins at 2,000 rpm and produces 58 strokes per minute with a -in. spindle travel. The -in.-dia. spindle will accept a -in.-long sanding sleeve directly or rubber drums over which larger diameter sanding sleeves can be slipped.
From Fine Woodworking #108
For the full article, download the PDF below:
View PDF