Fine Furniture for Tools
Tool chest combines storage and convenience while showing off its maker's skills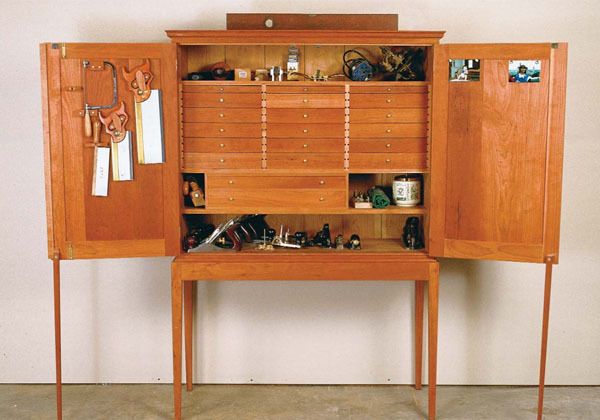 Synopsis: Steven Thomas Bunn needed a toolbox that, like the journeyman's boxes, was an advertisement and demonstration of his capabilities. He ruled out wall-hung options and made drawers that he can remove and carry to his workbench. Here, he explains how to build the carcase and make the slide-in drawer dividers. He made a board-and-spline back to allow for seasonal movement. A detailed project plan shows all the parts and how the braced legs attach and support the frame-and-panel doors.
I wanted a toolbox that was both visually striking and had a lot of storage space. Appearance was a prime consideration because as a one-man shop, I can't afford to keep finished work around as showpieces, and piles of wood or half-finished parts are not impressive to a drop-in client who isn't familiar with cabinetmaking. I needed a toolbox that, like the journeyman's boxes of old, was an advertisement and demonstration of my capabilities.
I like the European-style toolbox that hangs on the wall with tools hung neatly inside. However, I don't like the large volume of wasted space behind the closed doors. In addition, the sheer number and weight of tools I possess ruled out a box that could be hung on the wall. I like the out-of-sight storage of drawers, similar to a mechanic's toolbox. I also like the idea of grouping similar tools in a single drawer so that I can pull out a drawer of chisels or gouges, set it on my bench and then go to work. Also, drawers keep sawdust and wood chips from accumulating over my tools.
Incorporating drawers meant the cabinet needed to be relatively deep: I calculated about 17 in. deep to be effective. For both design and practical reasons, I decided to put the tool chest on its own stand, as shown in the photo above. The cabinet and stand offer exceptional storage capacity for fine hand tools at a height that keeps me from having to reach up or bend down to get to anything. But with some slight modifications of the interior storage arrangements, the tool chest could easily house linens, china or electronic equipment. In fact, my tool chest is an interpretation of the Gate's sewing cabinet shown in Measured Shop Drawings for American Furniture by Thomas Moser (Sterling Publishing Co., Inc., N.Y.; 1985).
Building the carcase
The solid panels of the case top, sides, shelves and bottom are all made of 3 ⁄4-in.-thick stock, as shown in the drawing on p. 63. After preparing the stock, I routed stopped dadoes into the side panels for the shelves and bottom, guiding the router against a fence. To ensure the dadoes were aligned, I clamped the sides together with the back edges butted against each other. I positioned the fence, squaring it to the front edge of one of the side panels, and clamped it in place.
From Fine Woodworking #108
For the full article, download the PDF below:
View PDF