Story Poles and How to Use Them
An ancient measurement tool ensures precise, fail-safe layouts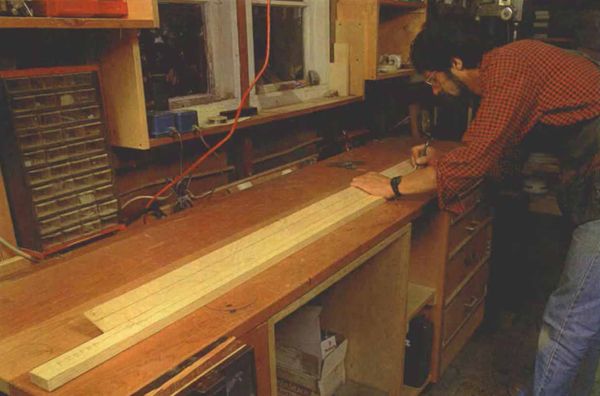 Synopsis: Jim Tolpin blamed inexperience, innate clumsiness, and the early onset of senility for his imprecision and misread measurements. Then he learned about story poles. From the renowned cubit used in Egyptian pyramids to massive European cathedrals, story poles are useful in rough framing, layout, dimensions, joints, and assembly positions. Tolpin explains how to use one here, and drawings illustrate how and where to mark the pole. There are site story poles and cabinet story poles, as well as joinery and hardware story poles, and Tolpin discusses them all.
When I began working with wood over twenty years ago, one of the first tools I bought and taught myself to use was the steel-rule tape measure. I soon found it constantly in my hand, using it to make cutoff marks, to lay out assembly positions or to determine the dimensions of a space or the length of a piece of wood. I couldn't imagine woodworking without it—even though I was often frustrated by misread measurements and imprecise layouts. I assumed that these problems were due to my lack of experience, innate clumsiness and the early onset of senility. Unaware of any other way to take measurements or to make layout marks, I never thought to question the tool itself—until the day an elderly cabinetmaker nicknamed "Gentleman Jim" showed up on our job site.
Gentleman Jim had been hired to build a custom kitchen for the timber-frame house we were building, so he'd come to take measurements of the framing and utility rough-ins. I watched incredulously as he unpacked his "tools," which consisted in their entirety of a pencil and three long sticks. I was working on the roof, so I missed whatever magic he performed down in the kitchen, but I was able to catch up with him just as he was heading out the door. Noticing the sticks were now covered with lines and written notations, I asked him what they all meant. He breezily informed me that the kitchen was on the sticks, just like the great pyramid of Giza was on a cubit stick. I came to understand that Jim was going back to his shop to build a complete set of kitchen cabinets without having once pulled out a tape measure.
From pharaohs to foot rules
Having hooked my attention with that bait about the pyramid, the old cabinetmaker proceeded to explain to me about these marked sticks he called "story poles" and how he got away with not using a tape measure. Jim explained that the graduated rule was a relatively new phenomenon in the woodworking trade. The first rules as we know them—2-ft.-long folding sticks graduated with inch marks divided into sixteenths—didn't even exist until the beginning of the last century. Prior to then, all measurement and layout work was done by marking up straight sticks or rods.
From Fine Woodworking #105
View PDF