Build a Better Sawhorse
Useful shop fixture offers good layout and joinery exercise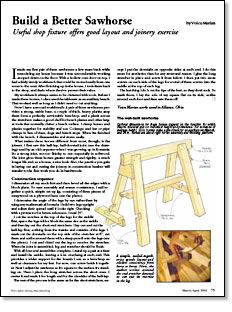 Synopsis: Voicu Marian's workbench is always cluttered with tools. In this concise article, he explains how he uses a couple of sturdy sawhorses to support a serviceable benchtop, with a plank across the stretchers that holds bench planes and larger tools. These sawhorses have half-lap, half-dovetail joints to give them greater strength and rigidity, longer life, and a nice look. Marian explains his construction sequence, and a plan drawing shows how the parts fit together.
I made my first pair of these sawhorses a few years back while remodeling my house because it was uncomfortable working stooped down on the floor. With a hollow core door on top, I had a fairly sturdy workbench that could be moved easily from one room to the next. After finishing up in the house, I took them back to the shop, and that's where they've proven their value.
My workbench…
Start your 14-day FREE trial to continue reading this story.