Double-Blade Tablesaw Tenoning
Spacers and shims between blades make setup fast and accurate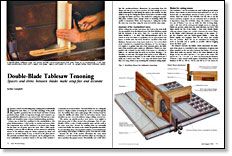 Synopsis: Mac Campbell standardized and streamlined common furniture making operations; he explains his joinery shortcut here. His efficient, no-fuss system for cutting tenons on the tablesaw uses two blades separated by shims and spacers to cut both cheeks at once. He cuts the mortises first and then adjusts his tenoning system to produce tenons that fit. He first explains the anatomy of the standardized tenon, talks about blades for cutting them, and explains his auxiliary fence for end grain cuts. He finishes with details on crosscutting tenon shoulders.
I operate a custom woodworking shop, making pieces individually designed for each client, so I can't take advantage of the profitable, repetitive operations that are the bread and butter of many production shops. Profits are important, though, and I wanted to apply assembly-line efficiency to my custom work. This lead me to standardize and streamline many common furniture making operations.
Joinery…
Start your 14-day FREE trial to continue reading this story.