Designing and Building Kitchen Cabinets
An overview from subfloor to soffit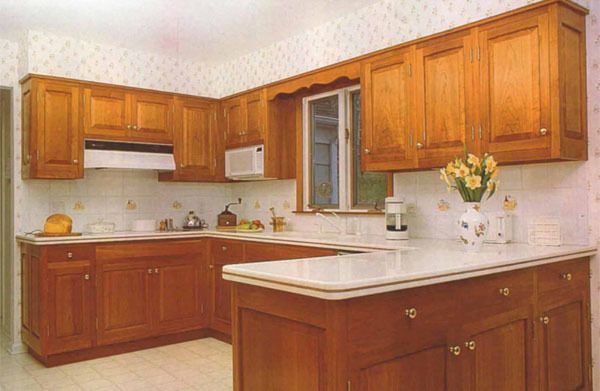 Synopsis: Veteran cabinetmaker Frank Klausz tackled the job of designing and making cabinets for his own kitchen. He offers an overview here of what you need to know before you begin in terms of planning the layout, design, and construction. He explains how he made, finished and installed the cabinets, too. He details story-stick measurements and layout, construction of the doors and drawers, installation, and his preference for a hand-rubbed oil finish, even in a kitchen. Side information discusses how to build a Corian countertop.
When my wife and I decided to buy our new house, I promised her right away that I would remodel the kitchen. Our old house had a bright, airy kitchen, and although the house we bought was only 10 years old, its kitchen was small and dark. It is hard to say which was worse: the commercially made dark-walnut-stained oak cabinets or the cheaplooking plastic-laminate countertops with particleboard that had swelled wherever it had gotten wet. We started by ripping out the old cabinets and tearing down a couple of walls to open the space. Then it was up to me to build a new set of kitchen cabinets.
Although I've been a professional cabinetmaker and furnituremaker for more than 25 years, it still took me a considerable amount of time to build the cabinets and to attend to all the details necessary in completing my new kitchen (shown in the photo above). But no matter how formidable the notion of building an entire kitchen worth of cabinets may seem, it can be a manageable undertaking if you invest a little time in carefully planning the layout, design and construction of the cabinets. While this article isn't going to tell you everything about kitchen cabinets, it will present an overview of what you'll need to know before you design and build them. In the next few pages, I'll tell you how I went about making, finishing and installing the cabinets for my own kitchen, but first I'll give you some hints on laying out your kitchen cabinets and appliances.
Designing a kitchen
When you consider all its built-in features, the kitchen is, by far, the most complicated room in the house to design. Whether you hire an architect to do it or you tackle the job yourself, here are a few of the more important considerations. Begin by locating the three most-used elements in a kitchen: the sink, stove and refrigerator. It's best to situate these so that they form a triangle with a perimeter not exceeding 18 ft. The oven and refrigerator shouldn't be directly adjacent (to keep cold things and hot tilings separate), and there should be a hood above the stove or cook top. Plan to have a counter near the oven so that you have a place to put a hot pan. A peninsula in my kitchen provides that convenience, plus it separates the kitchen from the adjacent dining area. The dishwasher should be located next to or near the sink and below the dish cabinet, so that loading and unloading dishware is expedited. If your floor plan allows it, locate the sink below a window, and install a light above the sink.
From Fine Woodworking #84
For the full article, download the PDF below:
View PDF