Drawknives and Spokeshaves
Using these versatile shaping tools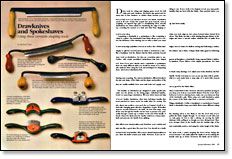 Synopsis: Drawknives excel at all sorts of jobs that require fast stock removal, such as roughing out tapered legs prior to handplaning. Spokeshaves are suited for chamfering a tabletop's edge, rounding armrests, and other finer shaping or smoothing. In this article, Richard Starr talks about how to find good tools, different blade designs, how to work safely with drawknives, and how to use and sharpen them. He talks about how to modify spokeshaves, too.
Drawknives and spokeshaves have always been tried-andtrue tools for riving and shaping green wood for folk crafts and rustic furniture. But they're also great tools for many jobs in fine furniture or cabinet shops because you can shave wood with efficiency and a fluidity of motion that makes you feel as if the tool is an extension of your own hands. Drawknives excel at all sorts of jobs that require fast stock removal, such as roughing out tapered legs prior to handplaning them smooth. Spokeshaves are better suited for chamfering the edge of a tabletop, rounding the armrest of a chair and other finer shaping or smoothing jobs. Regardless of what kind of woodworking, carving or sculpture you do, I'll bet there are plenty of uses for both tools in your shop.
Comparing a drawknife to a spokeshave is like comparing a chisel to a plane. The drawknife's bare blade allows you to control the thickness of the shaving, but as with a chisel, you must carefully guide the tool to keep the cut smooth and prevent the blade from digging in. Once you master a drawknife, you'll be able to hew away huge quantities of wood, as well as slice off thin shavings. Unlike a drawknife, a properly set spokeshave can't dig in too deeply or split the wood because its blade is enclosed in a sole— like a handplane. And the distance that the blade protrudes beyond the sole dictates the depth of cut. Spokeshaves can do much the same work as drawknives, but they are somewhat easier to use. Further, with certain specialized spokeshaves that have shaped soles, you can create effects that would be difficult with any other tool. Even if you have already used a drawknife or spokeshave, there are many different styles you should be aware of, as well as safe methods when using the tools and techniques for sharpening them. Let's look at drawknives first.
Drawknives—A hundred years ago, dozens of specialized drawknives were made for many trades, including boatbuilding, timber framing and coopering. The various drawknives differed mostly in the size and shape of the blade and the shape and position of the handles. Many of these knives are still manufactured today, and they are readily available from most mail order tool supply companies. Also, you can often find good, older tools at flea markets, auctions or antique tool dealers.
The handles on drawknives are designed to make specific jobs easier (see the photos on the facing page). Cylindrical handles, found on many larger drawknives, fill your whole hand and help you get a good grip to control a large blade while hogging off a lot of wood. Smaller drawknives often have ball-shape handles that aren't practical for heavy work, but really shine for carving.
From Fine Woodworking #80
For the full article, download the PDF below:
View PDF