Ebonizing Wood
Home brew lets the grain glow through.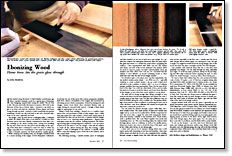 Synopsis: John McAlevey ebonizes wood with a precipitate formed by mixing iron and vinegar. The mix is most effective on woods containing tannin, such as mahogany, oak, walnut, and cherry. He does all his shaping and other edge treatments before applying the stain. McAlevey rips up steel wool and puts it in ordinary vinegar, and lets the concoction sit for four or five days. The longer you let it sit, the richer the color. You can strain it if you'd like, and apply it with disposable foam brushes. Leave each coat on for 30 minutes, wipe off the excess, and allow to dry before sanding. Side information shows dramatic accents with ebonized finishes.
I first started using ebonized or black finishes several years ago when I needed a dramatic touch for a special piece of furniture I was designing. Inspired after seeing the exhibit "The Art That Is Life: The Arts-and-Crafts Movement in America 1875-1920" at the Museum of Fine Arts in Boston, Mass., I returned to my studio eager to sit down and draw the multitude of lines, shapes and forms racing through my mind. I wanted to build something very special, something I would one day look back at and call a personal milestone in the way I approach my work.
The design I came up with was for a mahogany settee. I continued to refine the details of the piece in my mind as I worked on other furniture pieces that were already commissioned. Even after I began working on the settee—cutting joints, carving and modeling the top rail to flow into the side pieces and deciding on the spacing of the back slats-I continued to mull over ways to refine my design, especially how I would finish it. The settee was turning out to have a dramatic presence; the finish should be equally special.
While scraping and sanding away, my thoughts wandered back to a recent meeting of the League of New Hampshire Craftsmen's wood jury: I'm one of the jurors who screens prospective members. Ruth Hurt, director of standards at the League, had mentioned an ebonizing process where a precipitate, formed by mixing iron and vinegar, turned wood black. Since ebonized finishes were in vogue during the Arts-and-Crafts period, I though a black finish might be appropriate for my settee.
Taking a break from sanding, I hurried out to a nearby convenience store and purchased a bottle of cider vinegar. Since I didn't have any rusted iron nails around, I found some rusted pieces of steel behind the shop and put them into a container with the vinegar. After an hour or so, expecting instant gratification, I dipped some mahogany scraps into the solution. Nothing happened.
The following morning again nothing happened. Impatient, I tore up a piece of steel wool and threw it into the vinegar. I then left the solution to "cook" all day. Before leaving the shop that evening, I again dipped a scrap of mahogany in the solution. It quickly turned black. I next tried dipping a piece of red oak in the solution, and it also turned black.
From Fine Woodworking #76
For the full article, download the PDF below:
View PDF