Jointer Talk
Getting along with home-shop machines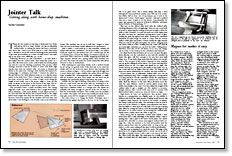 Synopsis: After Jim Cummins set up one of his jointers for finish work, he realized how his work habits influence the machine's performance. He details how he reads his machines and when it's time to tune them up. When a jointer is working right, it sings a harmony of knives whacking away, motor shouldering the load, feathery chips flying against the chute and bearings humming. It pays to listen for such music; Cummins finds that sharp senses are as important as sharp blades. Side information details a product that makes changing knives easier and explains how to sharpen face bevels.
There are two jointers in my shop, a fairly new 6-in. Rockwell and an old 4-in. Sears. Neither one has an adjustable outfeed table, so setting the knives has been a trial-anderror chore that I used to put off as long as I could. Three years ago, I decided to set up the Sears for finishing work, particularly to get some good surfaces on a series of small boxes I was making in my spare time (FWW #43, pp. 32-38).
Following directions I'd read somewhere, I set each knife a hair higher than the outfeed table, then turned the jointer on. I put a fine, flat India stone on the outfeed table and slowly passed one end of it over the whirling cutterhead. This process, called jointing, removed a tiny bit of metal to lower each knife edge exactly even with the outfeed table. Of course, it blunted the knives at the same time, leaving a little hairline flat instead of a cutting edge. To resharpen each knife, I lowered the infeed table and laid an 8-in. hard Arkansas stone on it so that the stone rested on the knife bevel. Then I clamped the cutterhead so that the stone, moved by hand in a series of tight circles along the length of each knife, was at the proper angle to hone the flat away, as shown in the photo at the bottom of the page. The infeed table was protected by a sheet of paper under the stone.
This procedure forms a small secondary bevel. The cutting edge has a little more steel behind it than a single-bevel knife, and is, therefore, a little more durable. It took almost an hour to set, joint and hone the knives, but it proved worth it—the edges lasted much longer than they ever had before (partly, I'm sure, because I had more respect for the machine and took some care about what I was feeding it). One benefit came as an unforeseen bonus. The machine was set up so well that I began to sense how my own work habits subtly influenced its performance.
After a while I could walk up to that venerable, rackety old jointer with absolute confidence. On my good days I can surface bird's-eye maple box lids without tear out—I double-tape the lid to a heavier piece of wood that damps out vibration and acts as a push stick. Then I feed ever so slowly, imagining each knife taking a separate delicate slice, getting maybe three hundred cuts per inch.
From Fine Woodworking #55
For the full article, download the PDF below:
View PDF