Jointer Talk
Getting along with home-shop machines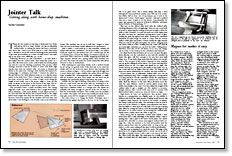 Synopsis: After Jim Cummins set up one of his jointers for finish work, he realized how his work habits influence the machine's performance. He details how he reads his machines and when it's time to tune them up. When a jointer is working right, it sings a harmony of knives whacking away, motor shouldering the load, feathery chips flying against the chute and bearings humming. It pays to listen for such music; Cummins finds that sharp senses are as important as sharp blades. Side information details a product that makes changing knives easier and explains how to sharpen face bevels.
There are two jointers in my shop, a fairly new 6-in. Rockwell and an old 4-in. Sears. Neither one has an adjustable outfeed table, so setting the knives has been a trial-anderror chore that I used to put off as long as I could. Three years ago, I…
Start your 14-day FREE trial to continue reading this story.