Jimmy Carter, Woodworker
A visit with the former president, and drawings of his porch swing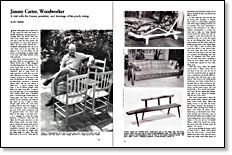 Synopsis: Jim Cummins spent some time with former President Jimmy Carter, in the days before he became known for supporting Habitat for Humanity and his proficiency with a hammer. Carter can swap sawdust stories with anybody. As a teen, he used to participate in a competition to determine from plans the length, pitch, and valley angle of a rafter, then with hand tools, cut it to fit. One year, he won. He made more than fifty pieces of furniture, and for their vacation cabin in the Blue Ridge Mountains, he made furniture from wood recycled from the house where his wife, Rosalynn, was born. His favorite tools are a drawknife and some spokeshaves, he says, and he shows his sense of humor: he saved and framed the first dovetail he ever made, following directions in one of Tage Frid's book. More information about his proficiency and skills at woodworking follow these stories, and side information drawings and directions on how to build a porch swing that Carter designed.
Jimmy Carter grew up in rural Georgia, joined the Navy and served in nuclear submarines, became governor of Georgia, then was elected 39th President of the United States. On the private side, Carter has been quietly making furniture for more than thirty-five years. He has turned himself into a creditable cabinetmaker who sits on his own chairs, eats at his own table, and sleeps in his own bed. When the talk turns to woodworking, he relaxes, laughs a lot, and could swap sawdust stories with anybody.
Carter says he never got much time in the shop while he was president. "The White House has a fully equipped woodworking shop," he told me, "but I never found time to use it." About all he was able to do was to search out the carpenters' shed at Camp David and steal some time to work there on weekends. Whenever he travels to a foreign country, he goes out of his way to visit local woodworkers. He treasures some woodworkerly souvenirs: a primitive African lathe, like the one shown in FWW #21; a carvers' hatchet from Togo; a set of Chinese gouges; some lathe tools made from files. A missionary once gave him a box of agricultural tools, among which were a primitive plow, a hand-wrought hooked knife for cutting sugar cane, and an adze. Carter showed me the plowshare and reflected that when he was a child in Plains, "People right down the road were working with the same basic design." In those pre-electric days, woodworking was one of the chores everybody took for granted—Carter can't even recall when he first began to use hand tools.
As a teenager, he joined the Future Farmers of America. Like the 4-H Clubs, the FFA gives instruction in the skills a farmer needs. One way of finding out whether the lessons have stuck is to stage contests. In Carter's day, one competition required each teenager to determine from plans the length, pitch and valley angle of a rafter, then with hand tools to cut it to fit. Carter says he remembers that particular contest out of dozens of others because one year he was able to win it.
In 1948, when the Navy sent him and his young wife, Rosalynn, to Hawaii, they rented an unfurnished apartment and Carter began making furniture out of necessity. The Navy maintained a shop for the servicemen to use, with a resident cabinetmaker to oversee the work and to help out. Carter learned mortise-and-tenon joinery and was encouraged to work with hardwoods. He remembers that one of his first pieces was an oak dining table.
From Fine Woodworking #46
For the full article, download the PDF below:
View PDF