Fixtures for Steambending
Adjustable end-stop and versatile table control breakage, springback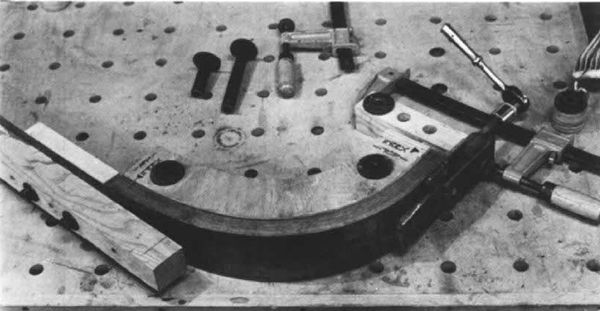 Synopsis: Michael C. Fortune has developed steambending techniques to prevent breakage during the bending and springback afterward. Ahead of bending, he makes a detailed technical drawing to work out the length of the blanks, the cross-sectional dimensions, joinery details, index points, and the size and shape of the bending form itself. He explains how steaming wood allows it to move, why he uses adjustable end-stops, how his bending table works, and the process itself. Side information by Bill Keenan talks about bending with ammonia.
Steambending allows me to work with simply curved pieces of wood that I can shape and blend together. Most of the curves I bend happen in one plane and are not exercises in pushing the limits of the process; most of my jobs are multiples, like sets of dining chairs. The trouble with Steambending is the inconsistent and unpredictable results—breakage during the bending and springback afterward.
Since I cannot afford to cut extra blanks in anticipation of rejects, I've had to devise techniques that will ensure uniform results. I also required a high degree of design flexibility, a reasonable rate of productivity, quick set-up time and easy operation by one person, and low capital investment. The system I'll describe is based upon an adjustable end-stop that's attached to the usual steel back-up strap, and a special clamping table to which I can bolt a variety of bending forms.
When I've worked out a design, an integral part of my sequence for building the object is making a complete technical drawing. For Steambending, this provides the length of the blanks to be bent, their cross-sectional dimensions so that I am sure of having enough material to shape and carve around joints, the joinery details and index points for the machine jigs I use, and the size and shape of the bending form itself. The way I work, it is not practical to guess about spring back, nor to accommodate each part individually, nor to discard parts that do not match. In some cases, the grain in a bending blank is part of a visual composition and could not be substituted without sacrificing other components as well. Immersing a straight piece of wood in hot steam plasticizes its fibers. When the steamed wood is bent, the fibers on the inside of the curve are compressed while those on the outside must stretch.
From Fine Woodworking #30
For the full article, download the PDF below:
View PDF