Drop-Leaf and Gate-Leg Tables
Graceful proportions make all the difference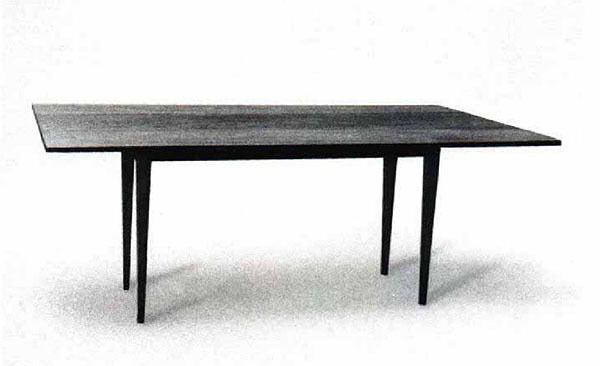 Synopsis: Simon Watts describes the style and construction history of drop-leaf and gate-leg tables, which he said were used principally in taverns. Design can vary, but the choice of wood and the boards selected for the leaves are important.  He talks about how to ensure enough knee room and why using a hinged bracket is not a good practice. Multiple photos and drawings show various table styles and dimension information.
From Fine Woodworking #18
Tables with hinged leaves have been made in America for at least 300 years, although no surviving examples date back to before about 1700. The early tables were often used in taverns' and, when not in use, could be pushed back against the wall to make more floor space. The first drop-leaf tables had a square edge between the leaf and the top—simple but crude. The barrel of the iron hinge was left exposed and there was a substantial gap when the leaf was down.
Later tables had a 45° angle cut in the lower edge of each board, with the hinge set in from the underside. At some point an unidentified genius invented the rule joint. This elegant detail allows the hinge to be concealed completely. Special steel table hinges are now made that have one leaf longer than the other. This longer leaf is attached to the table leaf; the shorter leaf is attached to the tabletop. I rout a short recess for the barrel of the hinge but there is no need to set the whole hinge into the wood. It's just extra work, and results in making the hinge more visible when the leaf is down. The mating edge profiles are best cut with a router, although originally molding planes were used. In my experience it is a mistake to make the joint too snug because crumbs and other debris tend to get jammed in it.
The leaves of early tables were supported by slides or swinging brackets, but when larger tables with wider leaves were made, a swinging leg became necessary. These became known as "gate-leg" tables. For convenience I will call the first kind a drop-leaf and the second a gate-leg.
The leaves of a drop-leaf table should not be narrower than about half the width of the top. I usually make the top 18 in. to 22 in. wide and the leaves 10 in. to 12 in. If the table is much narrower the legs get so close together that it might overturn when used with only one leaf up. If the table plus leaves is much wider than about 44 in., it will look bulky unless it is made too long for the average dining room. A table 6 1/2 ft. long seats eight comfortably.
For the full article, download the PDF below:
View PDF