Design Considerations
Thoughts on forms, materials and techniques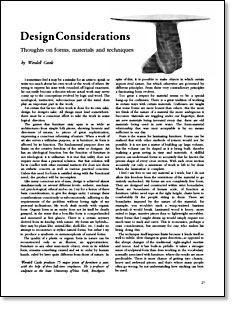 Synopsis: When a work of art also serves a utilitarian purpose, as does furniture, its form is affected by its function, writes sculptor and furniture maker Wendell Castle. To give a design unity, he strives to fuse aesthetic, mechanical, psychological, ethical, and other levels in each piece. He deals mostly with organic forms, trying to produce a synthesis or metamorphosis of natural forms. He shares his ideas on these issues, on the relationship woodworkers have with their material, and on how he laminates, to realize certain forms or to build up volume as he goes.
I sometimes feel it may be a mistake for an artist to speak or write too much about his own work or the work of others. By trying to express his aims with rounded-off logical exactness, he can easily become a theorist whose actual work may never come up to the conceptions evolved by logic…
Start your 14-day FREE trial to continue reading this story.