Woodworking Thoughts
Some musings of a designer-craftsman-teacher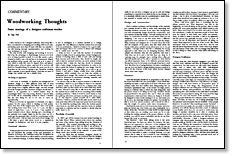 Synopsis: Tage Frid says that the only trouble with designing and working in wood is that it is so beautiful in itself. A block of wood, planed, sanded and oiled, is already admirable. So the more you do to it, he says, the worse it is going to get. Working with a material of such natural beauty, Frid feels that we have to design very quietly and use a simple form. He talks about his experience as an apprentice, what vocational education offers, knowing your materials, design that also works functionally, furniture design, and his view of the term "designer-craftsman."
I have chosen to be a designer-craftsman. Most of my life I have concentrated on designing and working with wood only, and having spent more than 40 years with that one material, I am still learning through experimentation and looking for new techniques in forms.
The only trouble with designing and working in wood is that it has the advantage or disadvantage, however you look at it, of being beautiful in itself. It is not like metal; a piece of metal by itself is very cold and has to be hammered, shaped and polished before people will even look at it. A piece of clay, which is really dirt, must be shaped, fired, and glazed. But take a piece of wood; plane, sand and oil it, and you will find it is a beautiful thing. So actually, the more you do to it from then on, the worse it is going to get. Therefore, working with a material of such natural beauty, I feel that we have to design very quietly and use a simple form.
On being an apprentice
I was born in Denmark, so therefore my background for furniture design is a little different from that of most American furniture designers. That may be the reason that I view design from a slightly different angle, and feel strongly about the background that a furniture designer should have. I started as an apprentice in a cabinet maker's shop in Copenhagen when I was very young. Because I was not what you would call an outstanding student in school, I decided that the best thing for me to do was to serve an apprenticeship.
When you become an apprentice in Denmark, you sign a contract for five years, which is binding on both parties. Those were five of the longest years that I have ever spent! The working hours were from 7 a.m. to 5 p.m., six days a week. At night from 7 p.m. to 9 p.m., I was required to attend technical school, where drawing and a knowledge of the materials were taught. Salary for the five years was $1 a week and the guarantee that I would be a journeyman at the end of five years. I did not learn very much about design, but I did learn a good deal about wood as a material—its strength, its limitations, and how it is put together.
From Fine Woodworking #1
For the full article, download the PDF below:
View PDF