Gallery
Birthday Birdhouse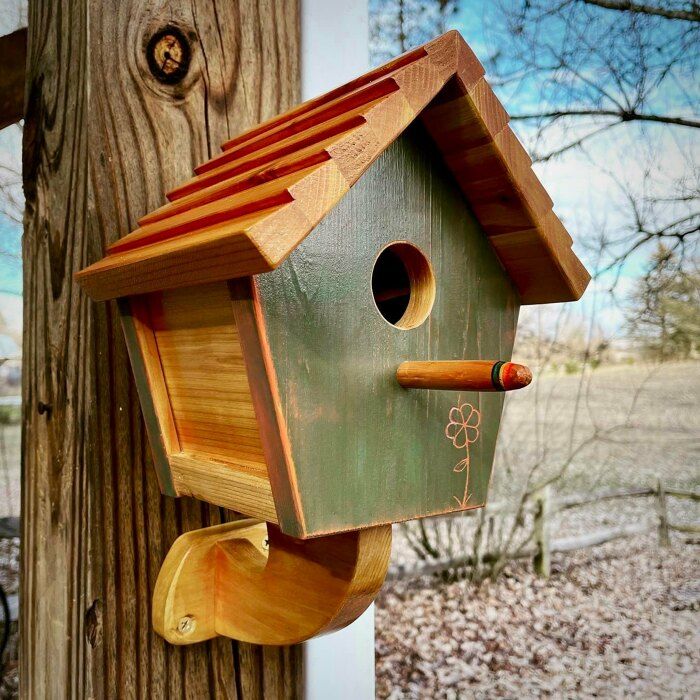 Our residents, although wild, will nearly be pets. So, I set off to put some detailed features on a traditional design. With plenty of wood on the pile, as long as we are making one, I figured we might as well make two. Although not nearly as flashy as my daughter's paint scheme, this is the one I saw in my head.
Made from solid cedar, using mortise and tenon joinery, with a rainbow-tipped, turned perch, this will make a great summer home for chickadees, pheobes, or warblers.
My drive to build this second birdhouse all started because I wanted to see this color scheme. The idea of Lexington Green aged over Salmon just shouts summer in full bloom. I previously explored two color milk paint layering after reading an article about how to isolate the colors by adding a layer of clear shellac between them. That shellac layer really locks in the base color and lets you scrub away the top coat without cutting through to bare wood or getting color blending. I was also able to use a small engraver to draw on a flower, cutting through only the top coat of green. It worked great and it came out just how I saw it in my mind. 
Then it needed a mount system. I shaped out a bracket that came right from "The Jetsons" with a small cross brace to keep it solid. The removeable lid allows the house to be cleaned out when the residents head south, and the pinned front and screw mounted rear will prevent the lid from lifting up unintentionally.