Gallery
Cherry seat-chest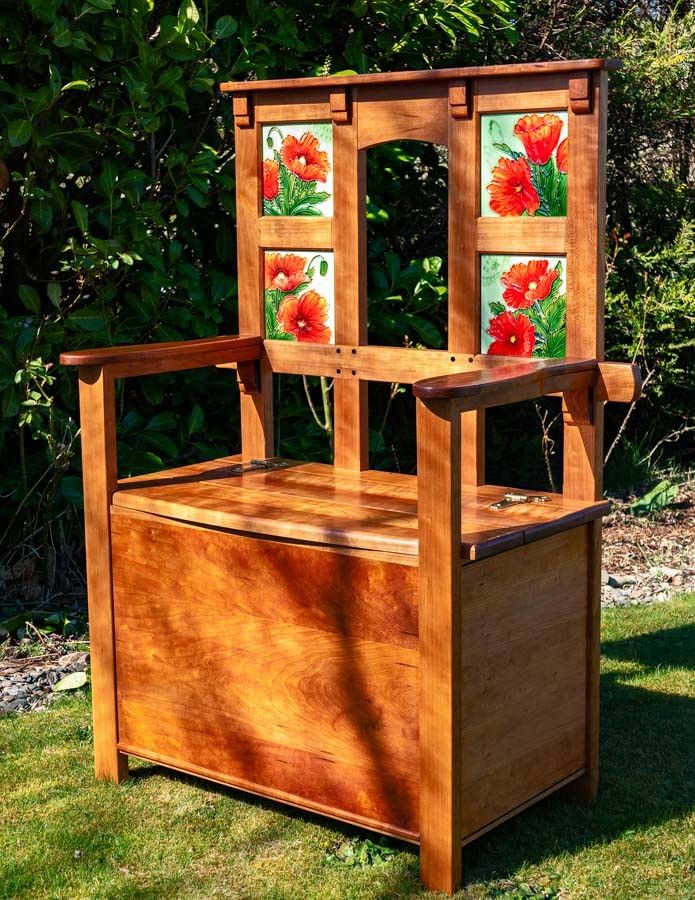 Every day is a dog walking day, without fail. Some of those days are also cycling days.  Then there's the gardening. These activities mean a double shoe change up to three times a day, so …. I made four items on which to hang the various activity-clobbers, three of which (shoe rack, hat rack and this latest item) are in cherry, made to a similar style.
(The fourth item is in the hall just beyond the lobby in which the cherry things abide. That fourth item is an oak coat stand. See another of my gallery entries).
The cherry seat-chest is for sitting on to change shoes but also to store the dry-clean dog towels waiting to wipe the filthy beasts on their return from our often wet & muddy adventures in Fforest Brechfa.
The wood is all reclaimed apart from some high quality cherry veneered blockboard used for any large panels or shelves. The style is a mish-mash of mainly English Arts & Crafts motifs, with that slightly medieval William Morris look (or so I hope).
The items are made mostly with hand tools, after the parts are dimensioned with a planer-thicknesser and a table saw. Sometimes I use a Domino for hidden M&T joins. I like to have a "hand of the maker" aspect, which comes about in the form of the odd plane track, irregular round overs and other obviously hand-cut shaping.
Finish is always several coats of an oil (usually Liberon Finishing Oil but sometimes Osmo Top Oil for toughness) followed by wax of some kind when the oil finish is thoroughly cured. I usually give a very light hand sand between coats with 6-800 grit, just to get the nibs and provide something of a key for the next coat.
Brass hinges were got from Lee Valley decades ago. I can't recall where the tiles came from but I've had them for ages too, waiting a project just like this one. Black bits are either African blackwood or dyed holly. The small support brackets are mahogany.