Gallery
Dovetailed Sapele Entryway Case With Drawer Unit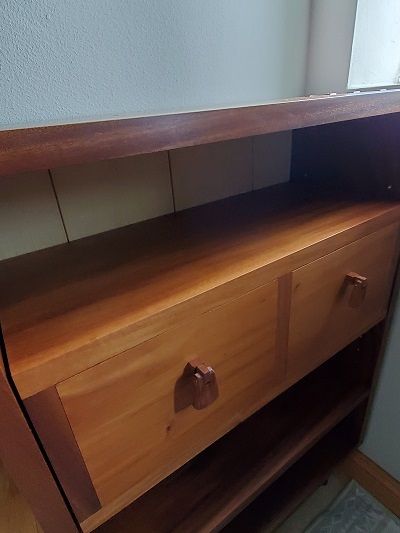 This dovetailed sapele case was built for a specific space in the entryway of our home in Chicago. Inspirations include the work of Natsuki Ishitani and Michael Pekovich.  The carcass was built from a single resawn 12/4 board and features hand-cut through dovetails that have been left proud. The drawer unit is independent of the case and rests on top of screw-in brass shelf pins allowing it to be moved vertically or placed on the top of the piece.  The hand-cut, half-blind dovetailed drawers include custom pendant pulls inspired by Philip Morley's article in Fine Woodworking Issue #271.  A finishing pad was used to apply three coats of General Finishes ARM-R-SEAL Oil-Based Satin Topcoat. 
Dimensions: 23in. W x 34in. H
Photo by Peter Koutsovitis.
Drawer unit detail showing drawers with hand-cut dovetails. Photo by Peter Koutsovitis.
Detail showing Philip Morley pendant pull from FWW #271. Photo by Peter Koutsovitis.
Front view showing shiplapped pine back and additional shelf. Photo by Peter Koutsovitis.