Gallery
Egret Lamp/12v.LEDs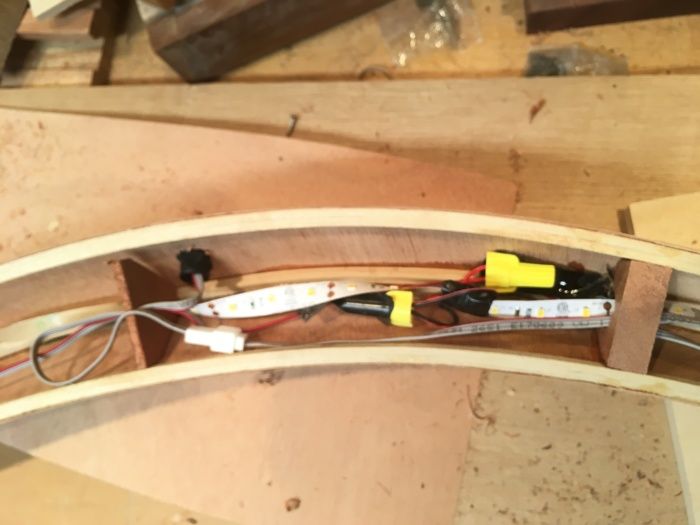 This is a bedside floor lamp designed for short reading sessions in bed.  It swivels and has a touchless variable brightness switch.  The structure is poplar 1/4″ square strips steam bent on the tight curves and held at approximately 10″ intervals with mahogany triangles with a hole drilled in the center of the triangle and the corners notched for the poplar strips to have a seat in which to be glued.  I used super glue, as this was an experiment.
The triangular section is maintained by the mahogany triangles. The surfaces are cherry veneer, superglued to the poplar strips. Two sides were completed and the 12v. LED tape lights were installed along with the switch and the MR 12v bulb at the top end. The tape was twisted to shine light in all directions. The effect shows in the candy cane like shadows and light spots along the length of the lamp. The transformer is in the lamp base.
The swivel is a Rockler 4″ lazy Susan mortised between the base and the round transition foot of the lamp.
Author took all photos. The interior shows the switch and strip LED tape and the mahogany triangles.
The swivel base uses a 4" square Rockler lazy Susan.
In the process of finishing with lacquer. The touchless switch is taped off and looks like a white spot.