Gallery
An Arts and Crafts lounge chair with a mid-century modern interpretation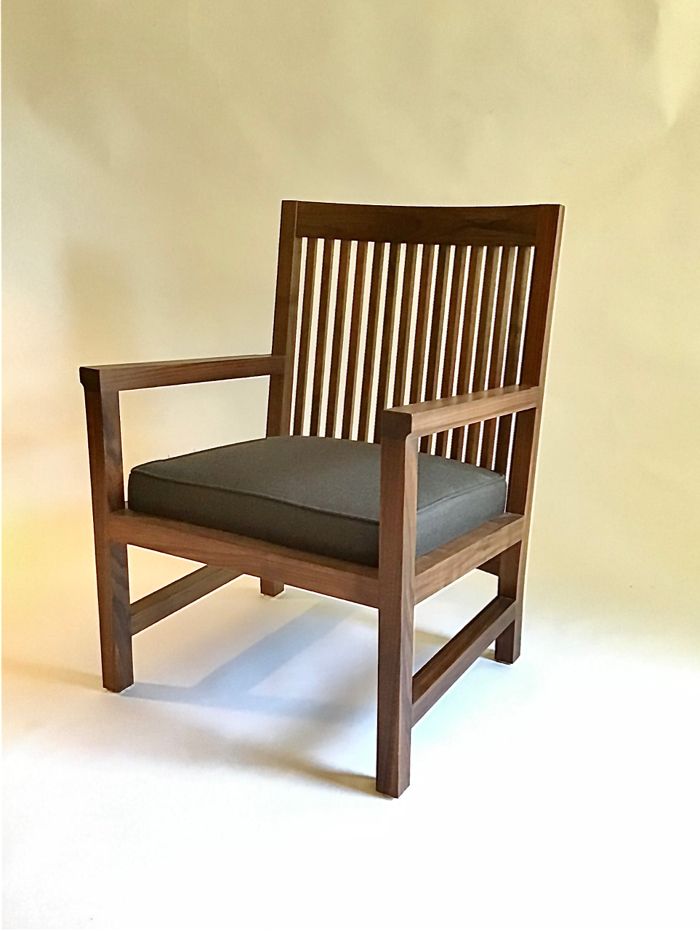 An Arts and Crafts lounge chair with a mid-century modern interpretation.  This chair was inspired by my two favorite furniture designers: Frank Lloyd Wright and Hans J. Wegner.  Materials are black walnut and wool fabric.  Finish is Danish oil. 
Upholstery by Pedro & Kim's, Beaverton, OR
Design is always the most challenging aspect of woodworking for me.  Several models were constructed in SketchUp before a prototype was fabricated in douglas fir; final chair dimensions were adjusted then the hardwood version was built. This design is a mash up between FLW's Huertley Chair and HJW's CH44.    
FLW's furniture is not known for comfort.  The 90 degree chair back geometry that he often used looked better than it sat.  These straight back designs were more prevalent in a bygone era where good posture was equivalent to moral rectitude.  This piece has the vertical lines used by FLW although eased a bit and combined with a simple "HJW like" structure.  
HJW's furniture is more practical in that it combines a minimalist aesthetic with everyday comfort.  I think you would have to look back to the Shakers for a simpler and more purposeful execution.
The chair fits easily into our eclectic collection of home furnishing and is surprisingly comfortable.  I feel the result successfully straddles the two design eras.