Gallery
Black (and very green) locust workbench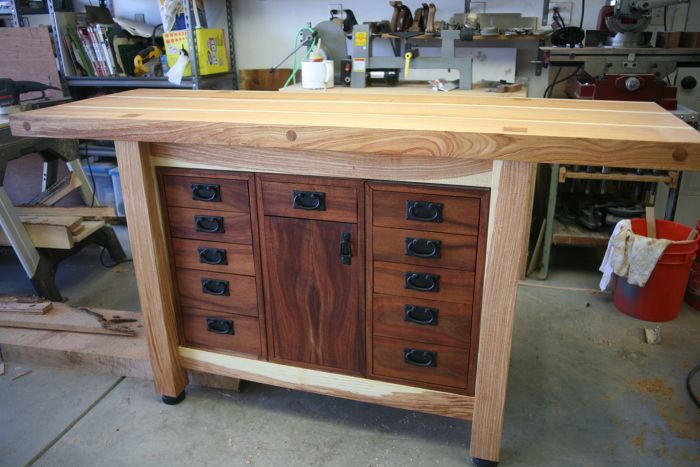 The wood here is black locust, cut from a single tree – and very green when I got it into my garage shop and started working it several weeks back.
In fact, to quote Noel Coward (or was it Cole Porter?), the stuff was moister than an oyster; my moisture meter read 20 percent.
But what the hay, my daughter and son in law were about to move into a new house, and he needed a workbench. So I said: Coming right up, and got to work.
What I read on the web about black locust is that it's stable and dries dense and hard. What I found when I got to work, on the other hand, is that black locust is fairly easy to work when it's green.
It's heavy, too; out of curiosity, I took the bathroom scale into the garage one morning when I was grappling with one of the three boards that comprise the top to this bench and found it registered close to 70 pounds. That's one pound for every year I've been alive, as my back wasted no time in letting me know.
I figured the risks were obvious and, for that matter, very like the risks that impinge on one's well-being the further one advances into middle age, or whatever it is I'm in: splitting and warping, not necesarily in that order. So I engineered the bench in a number of ways to hedge the risks – splining the top, for starters, and burying 10-inch galvanized lag screws in each of the two outer boards so that the thread reached as far as possible into the middle board to cinch them up.
Aware that moisture escapes wood via the pores, I also burnished the end grain of every board I used to 12,000-grit level, then sealed each one with a mix of beeswax and mineral oil. Last but not least, I cut the mortises and tenons with care, determined to start out, at least, with no-slop joints.
That would include the through-tenons joining base and top, of course. It took hours and hours to locate them correctly, and I tell you that my heart skipped a beat when, with the help of a neighbor, I perched the top over the mortises in the legs and knocked it home all around with that lovely "thock" sound that wood can make.
And all this for a bench that might well end up as firewood, you ask, if the perversity of wood, which alone among living things continues to move when dead, brings my engineering to naught?
Well, yes. If there was a chance that the thing would last long enough for my son in law and grandson, who is all of eight months old, to use it long after I myself have ceased moving, I was willing to take it. Just cinch it up tight and hope for the best, I said.
The result is what you see.
Incidentally, I have no idea what the wood is out of which I made the cabinet facings. Somebody gave it to me long ago, and I hadn't found a use for it until now.
Also, the little round jobbies on the legs are hockey pucks with half inch galvanized bolts driven through them into hexagonal connectors embedded in the leg – a clever idea I came across somewhere, sometime long ago for leveling a bench on uneven surfaces.
As for dog holes and vises, there aren't any of the former, as my son in law needed a plain workbench, and the latter – an adjustable woodworker's vise (just in case) and a mechanic's vise – will go on after we get this monster into his garage and he decides where he wants them.